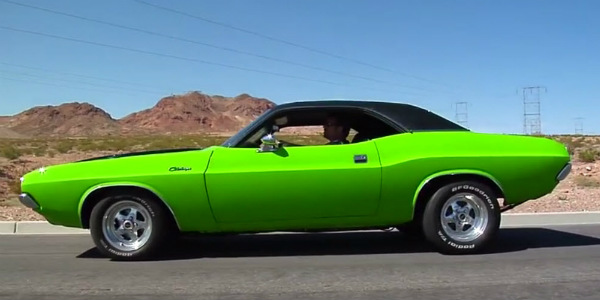 If you ask me, there is not probably anyone out there who considers himself as a fan of the iconic 1970 Dodge Challenger, who had not seen the "Vanishing Point" film of that same 1970 year, when the car hit the market. Those great open road chases, jumps, burnouts, a complete demonstration of everything that this awesome Detroit muscle has to offer to its potential owner, is something that is completely unforgettable, with a cult status for all times.
I'm referring to this because the following 1970 Dodge Challenger video that we have prepared for you today, really reminds me on the visual appearance of the environment in which Kowalski's muscle monster was 'having fun'. On the other hand, unlike his white beauty, this one comes with a refined and very appealing green paint job, and also unlike him, its owner is rather chilling out and enjoying a smooth ride on that deserted road (even though the video is titled "Burnout").
We actually do not get to see a lot of burnouts and clouds of smoke, as you might be expecting, but as above mentioned, nice and smooth ride with that awesome 1970 Dodge Challenger, with a 408 Stroker under the hood. But nevertheless, do not think that there is not much to be seen in this video. For every fan of the '70 Challenger, this video would be a real three and a half minute of pure pleasure. So check it out and tell me what you think about it.
---
---