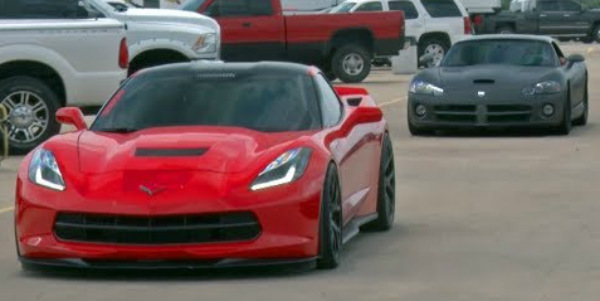 I take it that only from the title of this article you are getting the main picture what you are about to see and believe me, this is a great video, proving that Hot Shots Guys (just like the nice ones), not always, but can also finish last! Especially when there is a bet in stakes, and a lot of testosterone pride of course…
Guy and his V 10 Viper, equipped with Nitrous Outlet is making a drag challenge with a blond girl (known as Miss Stangkilr) with her Procharged C7 Corvette.
It all happens down at Street Car Takeover OKC in the Drag Strip Roll Race event. Miss Stangkilr's Corvette C7 has a P1 SC Procharger that generates about 570 horsepower and the guy's Viper is short for about 90 HP (and a few yards when the race is finished).
A cool video, shot from several different perspectives, from which we can see the skills of shift changing of Miss Stangkilr who's fast reaction was the decisive factor in her win that brought her the reward of a good sandwich, prepared from a guy with a tale between his legs…
---