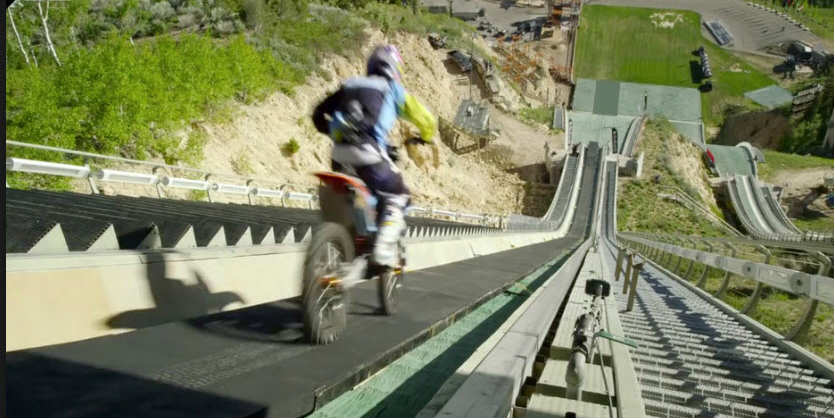 Robbie Maddo Maddison has an astonishing career that is full of spectacular world records, mind-boggling, never-been-done-before feats and triumphs over adversity. The Australian dirt bike rider has repeatedly broken distance records. Some of them include jumping over an entire football field and also jumping over a 10-storey Arc de Triomphe replica in Las Vegas. Because of his incredible accomplishments some people are rightfully dubbing him the modern Evel Knievel. Throughout it all, he has still found time to win medals at various renowned competitions like the Red Bull X-Fighters and X Games. After so much time, he still doesn't fail to surprise us with another great feat.
In his new stunt, he tackles the Olympic bobsled course in Utah. He does this incredible feat on a KTM 450SX-F. His bike is laced with Supermoto tires as he goes at staggering speeds with only six inches of room on either side. After conquering the bobsled course he decided to try the ski jump. Because, if there's a jump, be sure that Robbie Maddo Maddison is performing it. This is a short film that describes the strong passion for riding motorcycles. Maddison's idea of entertainment is constantly pushing the limit and flirting with what is achievable on a motorcycle. Take a look at this amazing death-defying stunt in the video below.
For the latest news of Robbie Maddo, visit his official website.
---
---