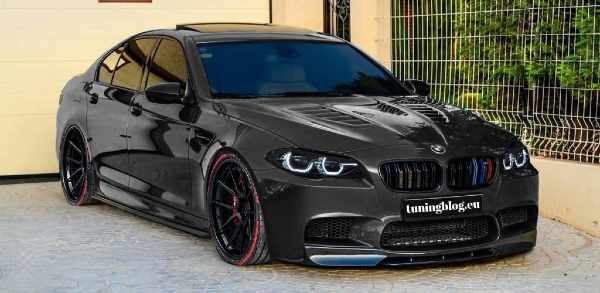 Who doesn't want to drive the "Ultimate Driving Machine". The slogan is the longest in automotive marketing and belongs to the stalwarts of motoring excellence – BMW and this is the ultimate guide to BMW tuning. Their cars exploded in popularity in the early 1970s, spurred by a catchy slogan, and the credentials to match. The car that changed everything was the BMW 3.0 CSL – a modified track-spec car based on the 3.0 CS road car. The 'L' means light/Leicht since a complete revision of bodywork with lighter materials, reduced soundproofing and seats, and alloys meant the 180 bhp on tap was enough to win a slew of European Touring Car Championships, or to be exact – 6 in a row.  

The CSL is what ignited the tuning craze in Europe. Tuning companies sprang like mushrooms after rain. Especially in Germany. You've heard of Hamman Motorsport, AC Schnitzer and BMW's in-house Alpina, now selling complete revised models of BMWs. Their expertise in motorsports leads to design and performance upgrades in many subsequent cars.
One of the offshoots of the tuning sector responsible for the 3.0 CSL was the M-series. The first M car, the M-1 made its debut at the 1978 Paris Motor Show and gave rise to popular models that followed. Prime examples are the compact M2, the ultra-popular M3, and the mid-sized beast – the M5. These are also some of the most tuned BMWs in the UK. 
Tuning options for BMW cars
With advancements in tech, lighter materials, and the race for bigger numbers, tuners were given a free ride in making their cars faster, lighter, louder and something special to look at. Enter a whole host of upgrade options. BMW tuning is particularly a thing in the UK, given the popularity of the brand, and the sheer number of bimmers on the road.

I'll list the prevailing BMW tuning modifications:
ECU remapping – This consists of changes to default ECU software to increase overall horsepower and torque figures. Ecu remapping changes parameters like air-fuel ratios, ignition timing, revs at idle, valve timing and more. This information is provided by a host of sensors. Overriding the set figures takes about half an hour with the software fed through the car's OBD port. Performance gains are highest in turbo fitted engines like the N54 twin-turbo, as compared to naturally aspirated engines, say the S65.
Exhaust upgrades – Freer airflow releases more power and torque. The simplest exhaust upgrade here is the cat-back, with modified and lighter mufflers and tailpipes, reducing overall weight. Resonators can be changed to mute raspy engine notes. Full exhaust replacements can include catalytic converter deletes, with straighter pipes. Turbos need a turbo-back exhaust replacement. Look to high-end brands like Akrapovic, Remus and Supersprint with pipes in titanium and steel combos. Most systems are slip-ons, so easily fitted.
Air Intakes – Modified air intake systems increase the amount of available air for combustion, with larger diameters and better air filters. More air is pumped into the engine with added side scoops and grille modifications. This is often done in combination with a replacement exhaust.
Turbos – BMW was late to the turbo party, in its road cars anyway. They catered to motoring purists with straight sixes or V8s in the N53 or N62, like in the BMW 330 E90 and the 550i E60. Turbos can be fitted to these naturally aspirated engines, along with an ECU remap. More changes are done to stock turbos, like fitting bigger, faster-spooling turbos in the 335i E95. Intercoolers with modified charge pipes will also direct more air for combustion. This will significantly up bhp and torque figures.
Engine Modifications – Internals are upgraded to handle higher revs and the heat and stresses that go with them. Look to uprated bearings in M models, and replacement bearings in any car with over 70K miles on the clock. For higher ignition temperature ratings, get better spark plugs.
Suspension – Stock suspension is good on most cars, but modified coilovers for the M cars, lowers the car up to 30mm. You get better drag coefficients and improved handling and cornering. Also, look to replacement adjustable springs in the tamer models. These fit seamlessly with electronic suspension settings.
Body Kits – Body parts are mainly to increase downforce, and reduce weight. Front and rear spoilers press the car down, while rear diffusers reduce air pressure under the car, hence increasing downforce. A pair of side skirts also help here. Replacement body parts are lightweight carbon fibre. Bonnets, roofs and engine covers can also save some weight. That you get a better-looking car is a given.
Wheels and wheel spacers – Larger profile wheels provide better handling and grip. Aftermarket alloys are also lighter and stiffer than stock wheels. For a wider track, you insert wheel spacers.
Example Tunes:
The E90 and E92 M3 from 2007-2013 is one of those unsuspected sleeper cars ripe for BMW tuning. The naturally-aspirated 4 litre V8 in stock numbers of 331 kW and 440Nm at the back wheels gained praise both from drivers and the motoring community. Adding a few moderate mods, like a chip tune and a better cat-back exhaust increases power to 352 kW and torque to 470Nm, while shaving off almost half a second of quoted 0-100 km/h times of 4.6 seconds in the manual. Top speed increases by over 15 km/h.

A second example is the BMW tuning smarts in the E9x variants of the 3 series with the lower capacity twin-turbo N54. Stock numbers before mods are 225kW and 400Nm. A quick chiptune raises numbers to 276kw and 520 Nm, reducing 0-100km/h by 0.7 secs, and overrides the limited max speed of 250k/h to 285km/h. A cat-back exhaust adds another16kw and 20 Nm. With a new intake fitted you get an additional 4kw and 5Nm. With this tune in place, the car reaches 291 km/h and rivals the M3 above. Not bad for a car half the price. BMW tuning experts will modify any bimmer to your liking. Just think of the numbers you want, and it's done.