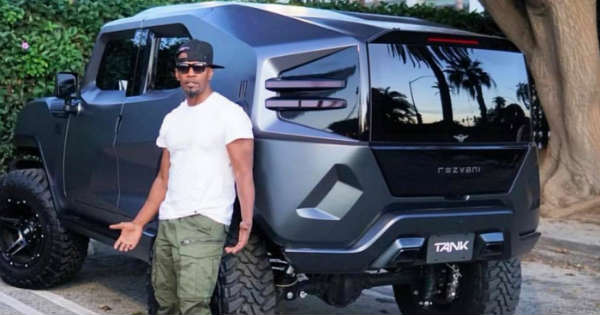 Whenever a brand new car is about to be launched for everyone, certain people try and manage to get their hands on one even way before it hits serial production. There are a certain number of cars that people go absolutely crazy for and people will not go Dutch on any of them. This is especially true with celebrities that have huge sum of money to spend. The world went absolutely crazy for the new Razvani Tank as soon as it was released and currently, many people have it, including some famous stars.
Another man that joins them is Jamie Foxx and he has just recently shared a photo on Instagram where he showed off his latest purchase, the extremely powerful Razvani Tank. This SUV looks like it came from the future and no wonder many went crazy about it.
Its base price is $155,000, and it can just grow bigger depending on your requirements. You can choose between a 3.6L V6 and a 6.4L V8 engine that is enough to create massive 500 HP.
Moreover, there are many other packages that you can choose from when purchasing the Razvani Tank, such as a roof-mounted LED light bar, a 6 inch lift, Dynatrac ProRock 44/60 axle set and some gorgeous 37×12.5'' tires.
However, the packages just keep on coming and if you are really interesting into getting this beast, make sure to go through each and every one of them carefully. What an amazing and unique SUV this really is!
https://www.youtube.com/watch?v=96rUqLabUig