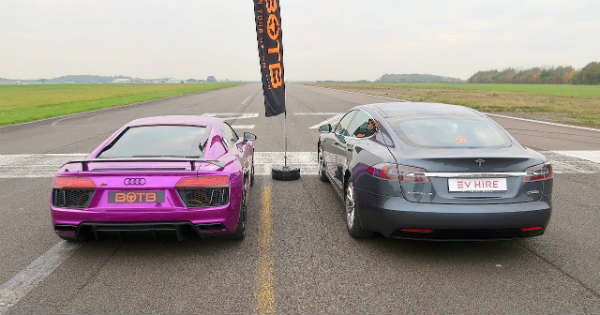 Tesla claims that their Model S P100D is the fastest production car when it comes to accelerating currently on the market, quoting 0-60 mph in just 2.4 seconds. It's powered by twin motors that produce 595 HP and 713 pound-feet of torque. The car only weighs a corpulent 4650 pounds. However, how does it fare on the drag-strip against another titan coming from the petrol class? The car the Tesla goes against in this video is the Audi R8 V10 Plus.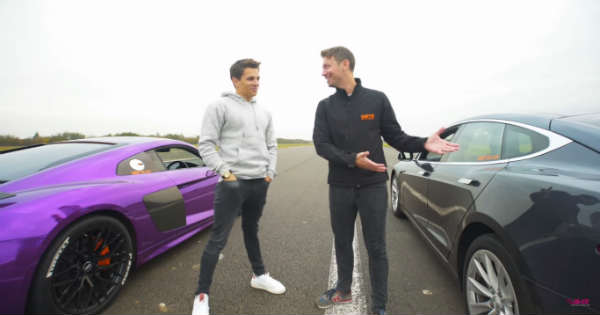 The Audi R8 V10 Plus is a very powerful performance car powered by a 5.2L V10 producing 533 HP and 398 pound-feet of torque. The R8 also has a weight advantage over the P100D weighing only 3791 pounds. Both the P100D and the R8 have AWD. With the specifications both of these cars have, we can conclude that this drag race is by no means a boring performance test.
As we previously mentioned, Tesla claims that their P100D has the fastest acceleration in the production world. Judging by the drag race below, they are not joking. The P100D performs a launch so sudden that there does not seem to exist a moment of acceleration. It looks like the Tesla was picked up and swooped away by some silent force.
However, even though the Tesla is faster at the start, the R8's petrol-powered engine has the advantage. The Tesla is obviously faster to 60 mph, but the R8 is way ahead by 100 mph. The Audi managed to reach the finish line half a second quicker than the Tesla.
Finally, read more specs about the 2018 Audi R8 Coupe!