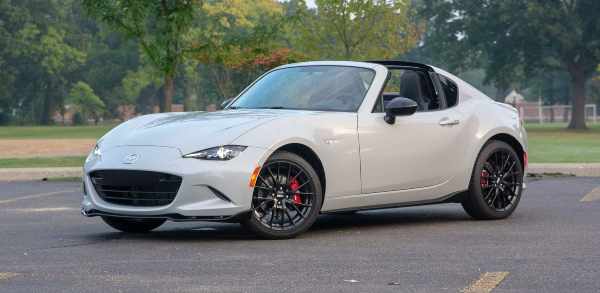 It exhilarated the senses of every driver that took it for a spin. And has been doing so for well over 30 years. The Mazda MX-5 Miata has been lauded for its driving dynamics, low weight, peppy and reliable little four-pot engines and an overall package geared to getting the most kicks. It's been grabbed up by track enthusiasts, and anyone looking for some fun on four wheels. The best part is that it was, and still remains, one of the most affordable two-seat convertibles money can buy. 
Now in its fourth generation, you'll find Mazda's MX5 used in decent condition and for a tick over a few grand. The hardest part might be just which one to go for. If you want the classic appeal of the first car, and smooth, curvy lines you're in for a good deal. The next-gen car adds a little refinement, and a stronger engine, though possibly the least sought out because of the lustre and timeless charm of its older sister.
Most buyers get the best bang for their buck in the third-gen car, released in 2005 and with the longest production line of any Miata. These will be reasonably priced, have few issues if any, and won't feel outpaced compared to newer rival cars.
If you're willing to spend some more, you can get the best handling, speed, up-to-date tech and safety features in the newest Mazda MX-5 in soft-top or hard-top variants. The current model did not unexpectedly win the title of World Car of the Year for 2016.   

Previous models have also been poured with praise and accolades. No matter which car you choose, you're guaranteed to have some fun. All models sit on lightweight, sturdy chassis that can be easily thrown around in the bends. Engines are reliable and pick up speed quickly. Gear changes are smooth in the auto and manual alike. Interiors and switchgear are quality offerings standing the test of time. In fact, no major issues have been reported and the MX-5 sits high on customer satisfaction and reliability rankings both for its newest sportscars and older Miatas.

Buying a Used Mazda MX-5
Here are a few tips when buying:
Choose a Model
If you like a dose of simplicity and perfection in one shot, then like most enthusiasts get the first-gen car. The lines are proportionate, all the basics are there, and there are no useless gadgets to spoil the excitement. Early cars in good condition can get dear, precisely for that reason. They're the first models of an iconic car.

This makes it harder for the improved second-generation Miata released in 1998. This is still a good buy and can be cheaper because of lower demand. It abandoned the cute retractable headlamps of the first Miata, but came with improved engines, and even a production turbocharged variant. Safety was also improved, with a stiffer chassis, independent suspension and many models featuring ABS as standard.

The third generation was released in 2005 and had a run of ten years. It included sharper styling and the addition of a hardtop roof. A mid-life facelift saw even sharper lines, and a new front grille accenting the low profile. Safety features like traction and stability control were added for the first time, and a 2.0 litre engine was introduced to the lineup.
The existing 1.8 was revised for higher revs and added horsepower. The 2012 Venture Edition was a UK-only release and featured a full leather interior, auto aircon, a limited-slip differential for the hardtop and a sat-nav system. Bolder colours also made their entrance. If it were my money I'd go for this MX-5 used, just need some luck to find one.  

The current Miata takes things in another direction. It's shorter and lighter than the previous model and the fastest car to date. The RF model moves away from the classic convertible styling and is more akin to a coupe. A more efficient, if somewhat slower 1.5-litre engine was introduced and paired with a manual gearbox.
The livelier 2 litre features in both styles and are paired with an auto box in the hardtop. A sprightly 0-62 mph time of 6.5 seconds puts it up against a host of hot hatches. All are worthy cars, and choosing is easier said than done. Go for the styling you like, as all engines will bring a smile, and some sunshine with the top down.  

Engine Variants
The first Miatas came with 1.6 and 1.8-litre engines in 85 and 95 kW respectively. The 1.6 served as the base for tuning specialists BBR (Brodie Britain Racing) who installed a turbo kit and upped power to 110 kW. With this engine top speed was maxed out at 140mph, and 0-60 took just 5.5 seconds. 750 production cars were modified. Second and third-gen cars improved on the power output of the 1.8 and the 2 litres was rated at 125 kW in early models and 150 kW or 200bhp in cars from 2012 on. Current models feature a 96 kW 1.5 and 135 kW 2-litre engine in line with emissions regulations.
Check for Damage and Faults
This can be a tricky path to tread, but most cars are in solid condition even after high mileage. For the first-gen Miatas check for service history, regular oil changes, timing belt changes on cars with over 100k miles, transmission leaks, and the state of coolant and the radiator.
Rust can be a problem due to damage or cracks in the soft-top roof, with worn window seals, damp interiors, and paint discolouring a clear giveaway. Also, inspect bodywork to see if the car has been in a crash. Mismatching panels and panels in different colour shades are a sure sign. Tyre tread should be even and brake rotors free of rust. Shocks might be worn, so a test drive is essential. Interior problems are minor, but check all electronics. 

For the next model, rust was a bigger problem and the reason why Mazda decided to go with a hardtop later on. Check the wheel arches, windscreen, window seals, the rear subframes and wishbones, and front chassis rails for rust. Engines and gearboxes are sturdy, but inspect for any leakage. Electronics should be fine, and interiors less worn than the first-gen cars.

The Mazda MX-5 NC or third-gen is the recommended choice due to the newer tech and low maintenance needs. Timing belts were replaced with timing chains, and most cars have rock-solid engines. Some minor issues are reported in a few cars including cracked coolant reservoirs, minor rust and block drain holes on the rear window, worn rear dampers.

And if you're looking to the current model, but buying used, the only area of concern might be the soft-top roof misaligning when put down. This can scrape interior trim but is covered in cars still under warranty. Everything else is flawless.
Price Guides and Buying
For the Mazda MX-5 used first-gen expect to pay around £4000 for the 1.6 litre variant with moderate mileage and decent condition. The 1.8-litre models hover around the same price point. Second and third-gen cars are around £5000, depending on the condition. 2 litre NC variants can reach up to £7000 but most are without fault.
The newest model can be had for upward of £12000. Always inspect cars with a third party, either a mechanic and electrician to get a qualified opinion of the state of the car. Trusted resellers of MX-5s warrant the car's condition and should provide a full service history. Take more caution when buying from private sellers, especially if the price is too good to be true. And don't shy from haggling but use the savings for your first tankful to enjoy your new ride.