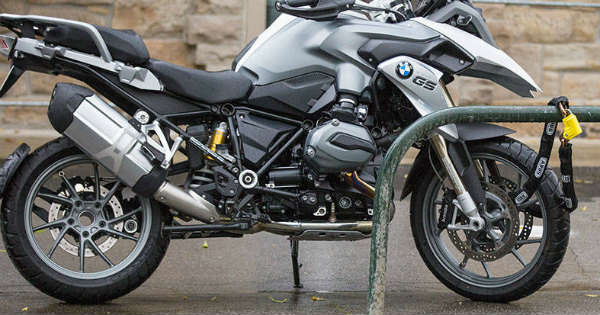 The total number of motorcycle thefts that take place each year has gone down recently. But still, there are more than 40,000 motorcycles stolen every year all across the country. If you own a motorcycle and want to keep it safe at all times, you should learn the best way to lock your motorcycle from the time you start riding around on one. There are lots of different motorcycle locks out there that you can put to good use.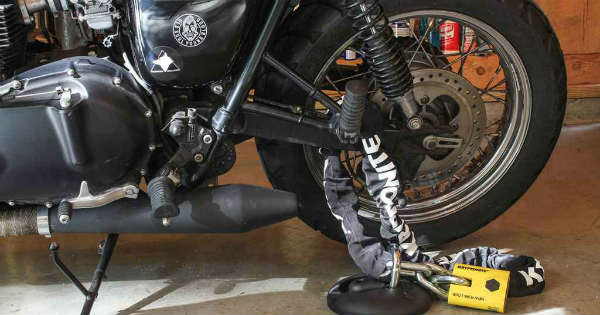 Figuring out how to lock a motorcycle will help you sleep better at night. You won't have to worry about someone stealing your pride and joy and riding off into the night with it.
Here is the best way to lock a motorcycle to protect it from those who might want to take it from you.
Start by Parking Your Motorcycle in a Secure Spot
First things first, any time you're going to park your motorcycle, you should make sure that you take the time to find a secure spot for it. You should not park it on a dark street where it'll be easy for someone to tinker around with it and steal it.
In a perfect world, you should stick your motorcycle into a locked garage for safekeeping when you're not riding it. But if that's not possible, the least you could do is park your motorcycle right outside your home in a well-lit area.
Cover Your Motorcycle up If You're Not Planning on Using It Again Soon
If you ride your motorcycle pretty much every day, it probably won't make a ton of sense to stick a cover on it every single time you're finished riding it. That's going to turn into a huge hassle in no time at all.
But if you're planning on parking your motorcycle for a few days, a few weeks, or even a few months, you should stick a cover over it after parking it in the right spot.
A cover can help protect your motorcycle from the elements. It can also stop it from gathering too much dust. And maybe most importantly, it can prevent people from seeing it and knowing that it's there.
This will, in turn, reduce the chances of someone trying to steal your motorcycle from you. The few minutes that it takes to cover up your bike will be well worth it.
Invest in One (Or More) of the Many Motorcycle Locks on the Market Today
As long as you park your motorcycle in a safe spot and cover it up when you're not going to be riding it for more than a couple of days, it should be secure. But if you want to take security to the next level, it would be smart to buy locks for a motorcycle.
There are lots of motorcycle locks that you can invest in for your bike these days. You can find:
Motorcycle handlebar locks
Motorcycle disc locks
Motorcycle rotor locks
You're really only going to need one of these types of motorcycle locks to secure your bike. But you might want to buy more than one for the added peace of mind.
Install an Alarm on Your Motorcycle
Just about everyone knows that it's possible to outfit a car with an alarm. But people don't always realize that it's also possible to stick an alarm onto a motorcycle.
There are some motorcycle locks, including most disc locks, that have alarms built right into them. But you can also buy more sophisticated pieces of alarm equipment to provide your bike with all the protection it'll need.
The two main types of motorcycle alarms are:
Motion-detecting alarms
Shock-sensing alarms
Learn about both of them and pick the one that you think will work best for your specific bike.
Equip Your Motorcycle With a GPS Tracking Device
A large percentage of the motorcycles that are stolen each year are eventually recovered. Studies have shown that about 40% of them make their way back to their rightful owners.
If your motorcycle is ever stolen, you'll want to do everything in your power to get it back. Equipping it with a GPS tracking device could be the answer to your prayers if your bike ever goes missing.
You'll be able to tell the police exactly where they can find your motorcycle when it has a GPS tracking device on it. Nowadays, there are GPS tracking devices that will go completely undetected by thieves if they're ever able to steal your bike from you.
Make Sure You Have the Right Insurance Policy for Your Motorcycle
You can spend all the time in the world finding the best way to lock a motorcycle up. But guess what? There's still a chance that it's going to get stolen!
There are very smart people out there stealing motorcycles and other vehicles in 2020. They know all the latest tricks when it comes to doing it and will be able to get around many of the obstacles that you put in their way.
That doesn't mean you shouldn't do everything you can to prevent motorcycle theft from happening. But it does mean that it'll be important for you to have the right insurance policy in place for your motorcycle.
It'll prevent you from having to buy a new bike for yourself later on if your old one is stolen and not recovered.
This Is the Best Way to Lock a Motorcycle Up and Keep It Safe
When you own a motorcycle, you have to try your best to keep an eye on it all the time. If you let your guard down and aren't careful about where you park, it won't be long before someone tries to take it from you.
Now that you know the best way to lock a motorcycle, use the tips found here to keep your bike safe. A little extra effort on your part will go a long way in terms of protecting your bike.
Read the rest of the articles on our blog for more tips on taking better care of your motorcycle.
.