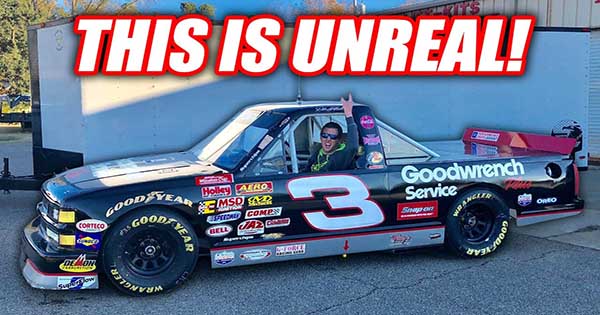 You Tube personality Cleetus MacFarland is very well known for all types of HP-related crazy builds and stunts. However, not one of those crazy videos quite top this one. Cleetus MacFarland just couldn't resist buying a street legal NASCAR truck. We are talking about an LS1-powered NASCAR racing truck featuring Dale Earnhardt's iconic No.3 livery.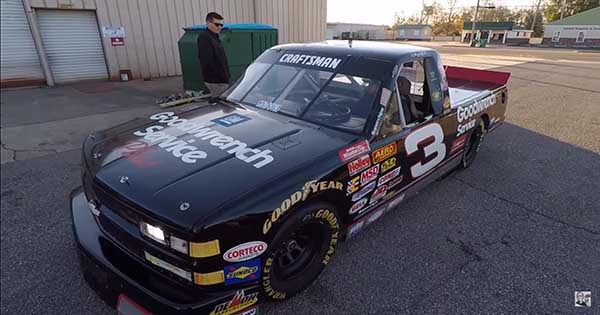 Cleetus MacFarland's recently purchased a racing truck that was specifically built for racing. However, its previous owner decided to make this truck street legal. Now this truck is perfectly legal in Mississippi.
This guy decided to do this because – why not? There's absolutely no point leaving this fine piece of machinery just sitting idly at the racing track or locked up in a trailer. We are going to declare this truck the greatest daily driver that Muscle Cars Zone can suggest.
This street legal NASCAR truck features one amazing sound-system which is an extra loud racing exhaust producing V8 sound waves able to shake the world. There is no features that do not need to be. That said, this truck relatively easy to fix. That said, take a look at the wide-open engine bay.
There is no passenger seat as well, so you would not be obligated to drive anyone with you. There is no pickup bed. However, there is enough space for one person's things. Yeah folks it's a real NASCAR racing truck.
Cleetus' brain is absolutely broken by how awesome this truck is. Dear readers, we think that we solved all your daily driver cravings. That said go and get yourselves a street legal NASCAR truck.
Finally, read the list of NASCAR camping world truck series winners!