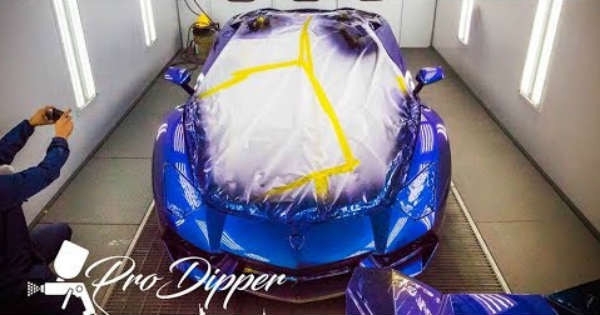 Painting your car can be pretty time-consuming and expensive. It takes a lot of time and dedication to do the right paint on your hot rod or muscle car. Paint and bodywork are considered more art than mechanical procedure. Being a solid painter required patience and to a certain degree perfectionism. This liquid wrap Lamborhini Aventador showcases all of the aforementioned features in a painter.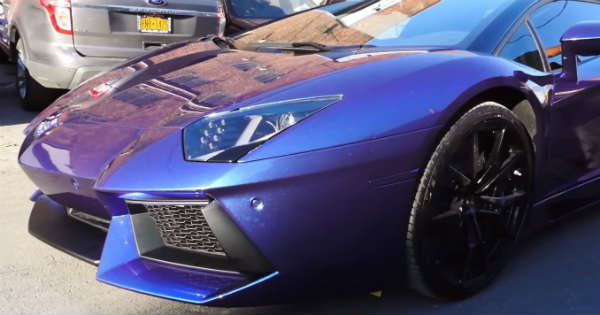 This liquid wrap Lambo is actually wrapped in Autoflex by implementing Galaxy shift pearls color with grape juice/candy and blue berry. This fantastic paint was performed by maestro Phillips who comes from Prodipper NYC.
Pro Dipper NYC is actually a Liquid wrap shop that's based in New York. They specialize in high-end and state-of-the-art custom peelable paint jobs. They use only the removable coatings of the highest quality on the market.
Their coatings are thoroughly tested to ensure durability and peelability while protecting the original finish.
Their central location in Queens paired with many years of hard-earned experience in the automotive industry make them one of the few premier NY Plasti Dip shops. They literally dip everything from trims and wheels to full vehicles in high-gloss pearl finishes.
Now the guy who made this liquid wrap Lambo is obviously extremely skilled and experienced. He managed to make this car look magazine ready. We just love the matte and shine done on this car. This guy is truly the Picasso in the dipping industry. However, there are a few questions that we would like answered. Like how long the wrap lasts? Also we would like to know how long the removal process lasts as well.
For more info about this product, check out StreetLocity.