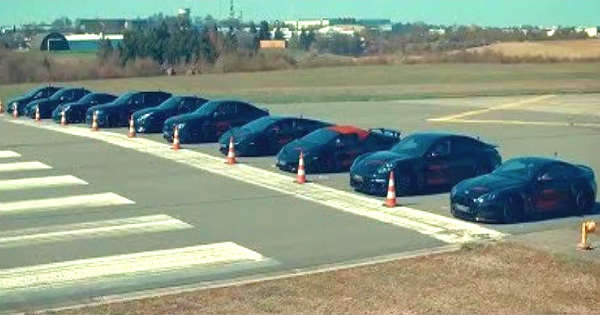 Unless there's some octane magic involved, or if there's a duo of prototypes, it's pretty difficult to shatter the internet with only having a two-car race. That's why in this video we have the ultimate velocity brawl. What you are about to see in the video below is a ½ drag race which involves ten cars! Tuned cars, that is. One of them is a monstrous Nissan GTR racing Aventador, 911 Turbo S and more.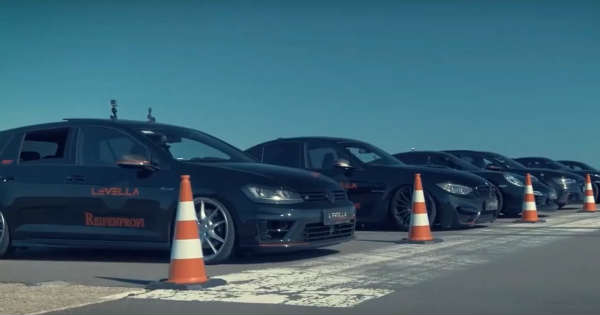 All of these 10 speed demons were delivered by an aftermarket developed from Germany. They decided to make them race each other on one pretty awesome airfield that ensures these monsters have all the necessary space. This ½-mile drag racing challenge makes the speed demons to deliver one fascinating sprinting shenanigan.
The 10 car grid of four-wheeled monsters that engages in this fight involves some pretty delicious names. However, the U.S is not represented here in this beasty battle.
Nevertheless, you should know what you are dealing with here. You can see the Nissan GTR racing an Audi RS6, Aston Martin Vantage with V8 power, Mercedes-AMG C63 S, BMW M3 and the VW Golf R (Mk7 model).
However, we mustn't forget by any means the pair of Italian monsters – the Lambo Aventador which is a Pirelli Edition and of course the Huracan Spyder.
The specialists behind this stunt are as we said the tuning shop from Germany – Levella. This tuning shop decided to deliver custom exhaust system and brand new wheels for all of the spicy models included. Enjoy!
Hungry for more exciting drag races? Check this ultimate battle between Twin Turbo Coyote Mustang and Nissan GT-R R35!