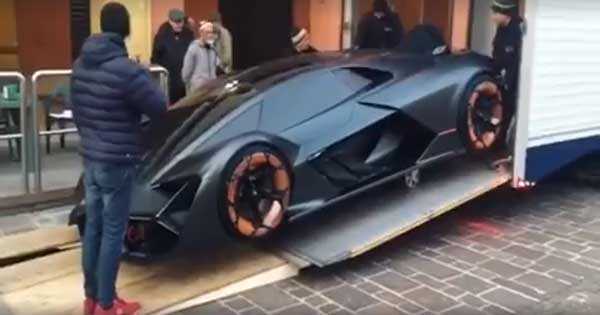 Lamborghini is a company that has made its legendary name manufacturing shockingly quick, wildly-styled supercars. This Italian manufacturer's history is full of everything from monstrous V12-powered hypercars to sublime four-seat GTs. What we have in the video below is no exception when it comes to the manufacturer's sublime history. It's a unique Lamborghini that it's bound to leave you all in awe.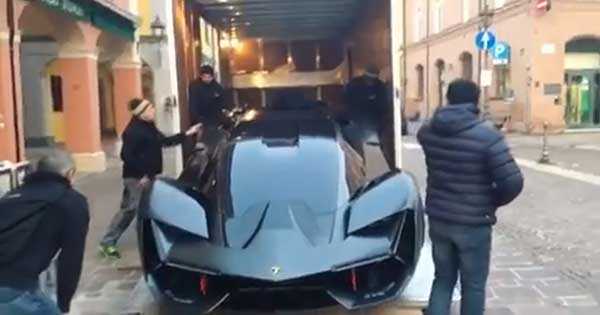 Unfortunately, we don't know who stands behind the car and we presume that is custom made due to its unconventional headlights. It features very aggressive aerodynamics throughout the entire design which is very typical for a Lambo.
However, it also features headlights which are very unconventional for the manufacturer. All in all, this car looks like the Bruce Wayne's batmobile. Unfortunately, we can't see it driving and hearing its thunderous engine that lurks inside that hood.
We can only see the supercar being loaded onto a trailer. Nevertheless, it looks like a very stylish car with an extremely unique design like we've never seen before in a Lambo.
We also never get a look at the car's rear end and to see all the details that lurk there. This unique Lamborghini must feature some insane details at the back and its diffuser must be out of this world.
Whoever is the owner of this special supercar must be one very avid Lambo fanatic. Unfortunately, there are so little details about this car that we don't know what lurks under the hood. However, it must be one extremely powerful power unit that packs a lot of mad horses.
Well, these Lambos are unique as well, check it here!