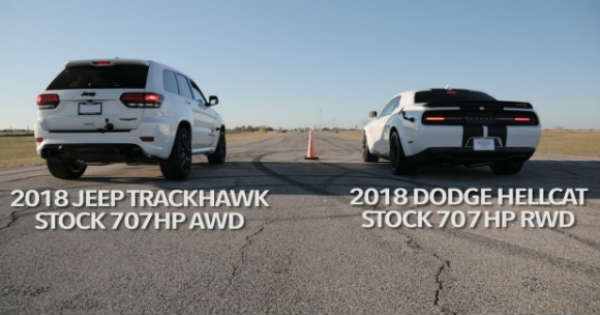 FCA's Hellcat V8 is definitely one of the best engines built by the manufacturer in recent memory. It produces 707HP and 650 pound-feet of torque power, the Hellcat is a real monster. This drag race put two Hellcat-powered cars to the test. The one is the 2018 Jeep Hellcat, or to be more precise the new Jeep Grand Cherokee that's fitted with a supercharged Hellcat engine.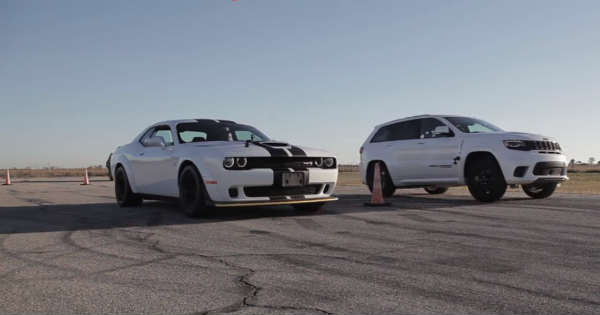 The Grand Cherokee Trackhawk goes against another Hellcat-powered car which is the new Dodge Challenger Hellcat. Both of their engines produce 707HP and both of these vehicles are fitted with stock tires. Now, there's one problem with that much power which is putting all of that power down to ground.
The original Charger and Challenger Hellcats had 275 tires and RWD. However, this was not enough to put all of that power down. The reason for this is because the rear tires were breaking traction. Nevertheless, like with every problem in life, there's a solution. In this case, there are two solutions.
The first solution is the Hellcat Widebody. This car is almost the same like its predecessor but it uses 305 section tires. Because of this the car now has way more grip and is more efficient off the line. Now, the second solution definitely weighs more. However, it's equally efficient.
The 2018 Jeep Hellcat or Cherokee Trackhawk is fitted with the same engine, but it's AWD. This video aims to find out which one of these two solutions is better. We don't want to spoil the results for you so take a look for yourselves.
Finally, read more about the 2017 Dodge Challenger!