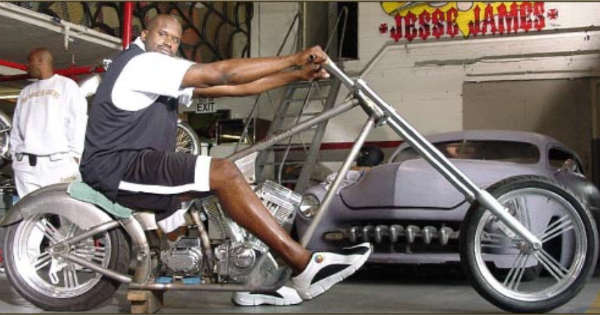 Wild custom choppers might not be your cup of tea. However, even though might not like that style of designing choppers, we are sure that you will make an exception for this one. Why? Well, it's pretty big because it was specially designed to fit Shaq's 26 shoes and massive frame. The chopper goes by the devilish name of the El Diablo and was exclusively built by WC Choppers back in 2001.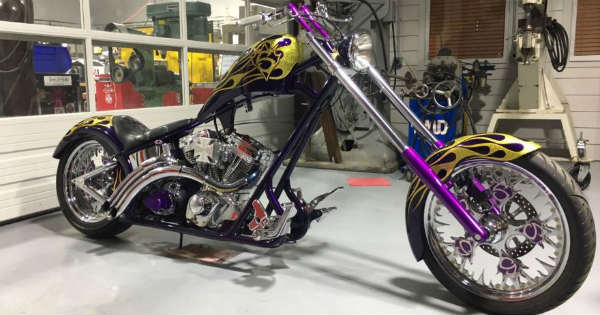 The entire building process was demonstrated in Motorcycle Mania II which was a show that aired on Discovery in 2001. Apparently, the story goes like this: Jesse James agreed that he will build this massive chopper for Shaq only if he could deliver an NBA Championship to L.A.
As you know, Shaq delivered that glorious title and so did Jesse James and WC Choppers. You can notice the Lakers colors in the paint design. You can also find the letter S in the wheels because Shaq is a Superman fan. It features an S&S 113 ci V-Twin drivetrain paired with a 6-speed transmission. The current owner of the motorcycle stated that the chopper is in perfect condition. It also has West Coast Choppers' seal of approval. They thoroughly checked the bike and said that everything works flawlessly.
The Bike was put out for auction on eBay and had 73bids. The bike was finally sold for $44,100. We hope the guy who bought it meets Shaq's massive build and can ride this motorcycle properly. The size of this motorcycle is no joke at all. You can watch the building process in the video below.
Finally, check out the most famous athletes with their biggest car collections!