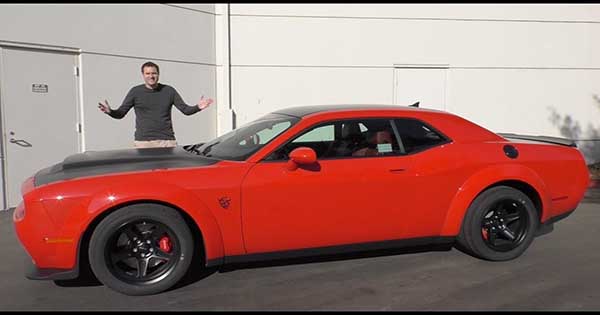 The features and quirks aficionado, Doug DeMuro has managed to get his hands on an 840HP Dodge Demon, with the car's owner also being present. When it comes to muscle cars, this is America's finest in recent times. This car is so rich with interesting details that checking out reviews about it can never become boring. That said even if you are already familiar with this car, you should definitely check out this Doug DeMuro adventure.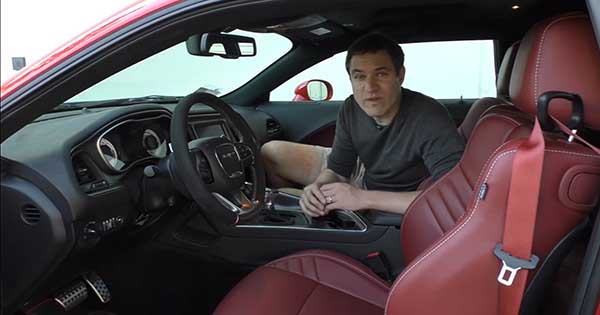 Wild machines like this 840HP Dodge Demon proves that, even though there's threats of financial crisis and environmental pressure, the automotive industry can still deliver us poster wallpaper cars. It's also especially exciting to see the new Challenger car completely ignoring its competitors. While Chevy and Ford are battling with track muscle cars, the Demon cares only about straight-line battles.
It should not be surprising that Dodge's drag beast for the road features some pretty unusual quirks. Granted, there's many of them. Some of these quirks is the liquid-to-air cooler. Other fascinating quirk is the factory-equipped transmission brake.
However, you might've already know about this thanks to the Dodge Demon's heavily marketed teasing campaign. Nevertheless, it's always very cool to witness some of the vehicle's weirder quirks up close.
Elsewhere, you can find fake headlamp air intakes. While the Hellcat gets one, the Dodge Demon gets two. On each of them you can find the Demon logo placed on the circumference. Another interesting feature is the data logger. This feature records your ¼ mile personal best.
Finally, visit Doug DeMuro's official website!