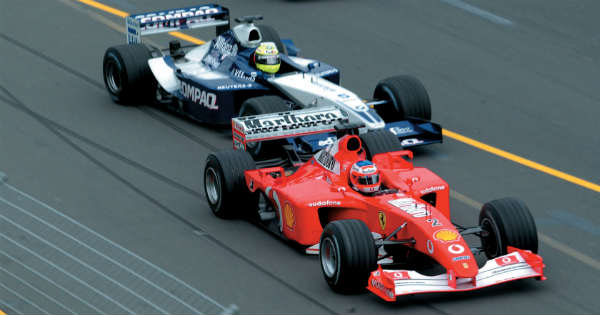 In this one, we are remembering one of the greatest battles in the history of F1, hands down. The F1 Melbourne 2002 race delivered a lot of heavy-packed action and excitement. Schumacher vs Montoya is also one of the greatest rivalries the sport has ever seen. When Juan Pablo Montoya joined the F1 grid, he wasted no time in announcing himself as a future great.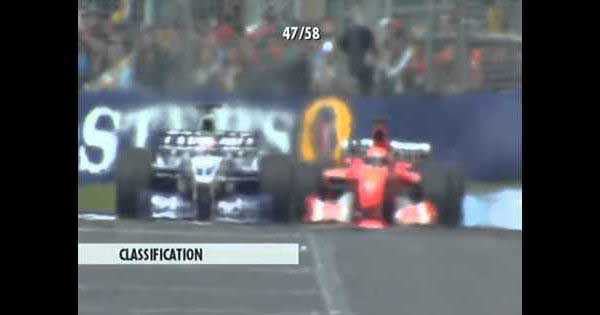 He did that perfectly when he made a very bold overtake on champion Schumacher at the Brazilian GP in 2001. We saw these two racers on numerous occasions battling each other with fierce passion. Sometimes Schumacher made overtaking moves that infuriated the Colombian racer, sometimes damaging his racing car in the process. Though brief, Montoya vs Schumacher was a very memorable rivalry.
This F1 Melbourne 2002 race is a great moment in this rivalry when the two of them joined by Trulli were battling each other to the bone. The battle begins by Trulli in first place followed by a very fast Schumacher in second and Montoya in third just following and waiting for a chance.
However, Trulli was quickly out of the picture as he folded under pressure causing him to spin and end up in the wall. Then, the battle was only between Schumacher and Montoya.
This was followed by a very bold move from Montoya passing Schumacher on the outside. However, Schumacher was a guy that always had a response. He managed to return the favor by overtaking Montoya later in the race.
The overtaken was done at the inside of the corner being a bit wide on the exit. Schumi managed to cut Montoya from the inside going on the throttle like a rocket!
Finally, here is something more about the rivalry between Schumacher and Montoya!