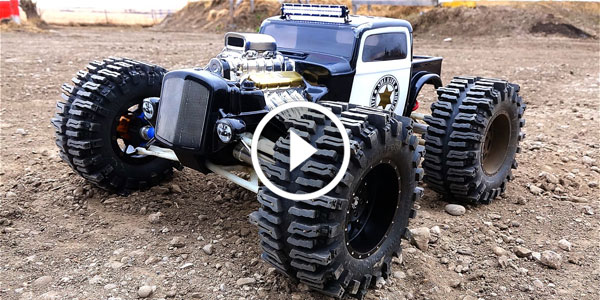 Hello my dear muscle car fans and enthusiasts. Here we go with one of those small machines that could easily be called a dream-come-true for all those amongst you who love and enjoy in RC vehicles. And as those of you who are following us regularly know well, we also love these small replicas of the real thing, a real piece of art, a craftsmanship at its best, that simply make each and every one of us gasp when we see it.
And I guess that just by reading the title (and seeing the intro photo), it is clear to you that an RC ride that deserves the saying (or the nickname, if you will) "There's a new sheriff in town", has to be something out of the ordinary! And trust me when I say, it truly is!
It is a 1/10th scale replica of the Traxxas Summit, equipped with a dual motor 820 Dewalt, with a BEC add on it (with a few additional upgrades that have to be made, according to the video info). Therefore, I can say by all means that its creator had come up with is a true RC torque monster, for which there is no obstacle that cannot be overcome! And, it weights (almost) unbelievable 16 pounds.
But talk is talk, and walk is walk! So you better have a look at the video below and meet the new sheriff in town yourself! And for those of you who want to see the best RC rides that could be found on the market currently, go to this link.
---
---