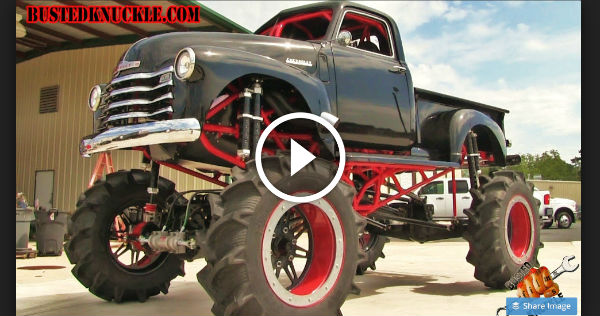 If this is not as good as it gets when we are talking about monster trucks that can beat down every mud challenge and hard core obstacle that comes on its way, than I really have not idea what else could it be. First of all, I have got to tell you that I'm really not that much into monster trucks (mostly, I'm talking about how they look), but watching this one, 1950 Chevrolet Mega Mud Truck, perfectly done and reshaped, it really gets me going.
Unfortunately, we do not have a chance to see how it actually handles a real mud challenge, because it is kind of a promotional video on the great work that this guy Ryan Camp has done with this old Chevy truck, turning it from a rusty old piece of junk into a real beauty on which even a California girl would get a turn on. Yes, it is really that good – you saw it on the photo already, but wait until you watch it on the video bellow. Plus there is a real beast under the hood, 540 Big Block that runs on an alcohol and that can develop an astonishing 1 300 HP.
Monster and the beauty at one place!
---
---