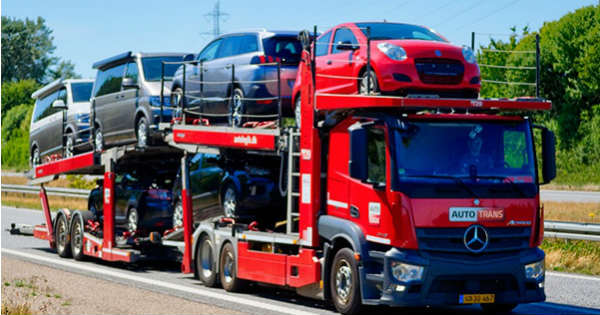 The transportation of a car around the country or abroad can be expensive and risky. However, loading a car into a vehicle may be your only option if you move to work, send it to a relative, or receive a vehicle that you have purchased from a dealer abroad or a private seller. However, if your car goes into the sunset without you, causing you anxiety, here are some tips for sending a car to bring peace of mind to the process. Here is how you should ship a car safely.

Photo by Norbert Buduczki
What Is The Best Way To Move Your Car?
Driving across the country may seem like an exciting way to move a vehicle from one side to another, but be aware that road travel can be tense, especially if you are needing to stick to an itinerary.

Is driving your car to a new house that is completely crammed with boxes what you really want? Perhaps you thought it would be more economical to drive than to ship your car across the country. However, fares, gasoline, food, accommodation, and other road costs accumulate fast.

When you choose a transportation company to transport your car, you will save money, and time. Therefore, you can rather focus on settling into your brand new home.
How Much Will Shipping Cost?
The cost of moving your car depends on several factors such as:

The model of car (larger and more heavily refurbished cars usually cost more) and the size
Where the car is received
How far the car will travel
The general condition of the car
Whether it is working
Seasonal factors
The fuel price.
It is usually cheaper to transport a car on an open trailer in comparison to a closed truck option.
The Options To Ship A Car
A decision you will need to make, is if you prefer to transport your vehicle using a closed or open truck.

The most economical way to transport your vehicle across the country is on an open trailer. However, your car could be harmed by flying debris, dirt, people, and the weather.

Drivers that deliver classic, luxury or valuable vehicles will probably be more at ease choosing a carrier that is closed.
Customers Are Important
Perhaps for some, it may be quite daunting watching your car get loaded and not hearing of its whereabouts for a whole week!

There are transport companies that take good care of their customers and they are available day and night to provide you with any information you may want about your vehicle and its location.
Preparing Your Car From Shipping
Make an appointment with your mechanic to do a thorough check of your vehicle to make sure all is working properly. Electrical or mechanical problems can make it difficult to load your car onto the carrier. Therefore be sure to discuss them with your carrier.

All items that belong to you should be removed from your car and any loose parts secured so that they do not move while your vehicle is transported.
Scrubbing your car as soon as you know the date it will be shipped makes inspecting it a lot easier. You should thoroughly inspect it before it is transported to another country (registering every scratch, mark, dent by a note or photo) to claim from insurance if ever there is any damage found on your vehicle.
The Model Of Your Car Matters
Your vehicle may be placed with other vehicles of the same category. However, if you made extensive changes to your vehicle, the options for transporting it will be more limited, or it will be more expensive.

Therefore truckers are very strategic about placing your vehicle for transportation and they make sure it is in the very best place.
Insurance Coverage When Shipping Your Car
Vehicles are rarely damaged when transported over rough terrain, but it is possible for accidents to happen. Therefore, make sure that the auto transport company you have chosen is covered by insurance.

The basic insurance policies will not cover the delivery of your car, but after you have confirmed, companies will add delivery insurance that is temporary.

The best advice you can be given is to make an appointment and talk to a representative of your insurance company who can give you all the answers to your questions.

You should check your insurance policy to determine what coverage you have and ask the transportation company about liability insurance. Most reputable carriers will have coverage from $50,000 to $1,000,000, but it will not hurt to double-check.
Plan Your Time
Car delivery is not the same as package delivery. They are more cumbersome, expensive, and slow. Domestic shipping can take four weeks, while international shipping can take about eight weeks.

Choose your transportation company to ensure that you agree on all the fine print. You should plan to find a carrier and determine the time needed for loading and delivery.

There can often be delays that were not in your plan, so patience is crucial. If you are not collecting your car, ensure someone you trust will be there when it arrives.
Inspect Your Vehicle Thoroughly
Although an inspection has already been done, your car will be inspected by the driver who will record any damage. When it arrives at your location, it is important that you do another inspection.

The inspection after you have received your car is important because it gives you the opportunity to record any changes in the condition of your vehicle on the Bill of Lading. Having detailed notes of any damages will assist you if you need to make any insurance claims.
To Sum Up
Cross country vehicle transport is not necessarily a fun thing to coordinate. There are scenarios like moving around a country with your precious car, where it makes more sense for you to ship your car, rather than driving it.

There are reliable and cheap ways to transport a car if you know how to choose a respectable company and organize them.

If you chose your car company with the care and took steps to prepare your vehicle carefully, the chances are good that it will arrive when you are expecting it and in excellent condition.

Instead of putting extra miles and wear and tear on your car, we have shown you how to ship your car safely. For more info read this great post by A-1 Auto Transport.