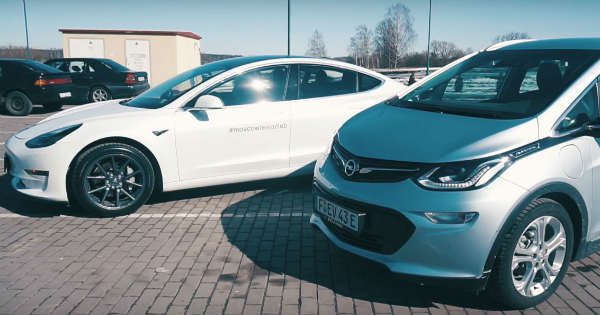 Two cars are changing the way we think about vehicles. Chevrolet and Tesla are car manufacturers that are evolving to provide consumers with affordable electric vehicles. Tesla's goal from day one was to be efficient and cost-effective, but Chevrolet has also decided to join the race with the Bolt. Read on to learn more about the Tesla Model 3 vs Chevy Bolt.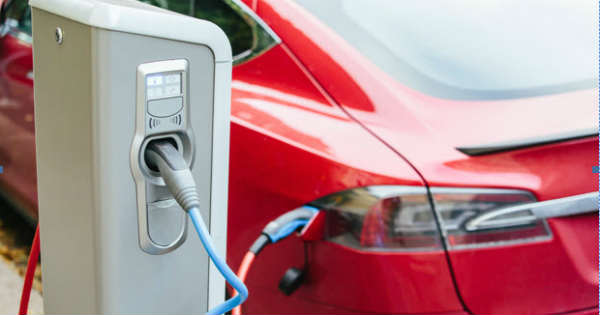 Many people argue over which one is better, but each vehicle has characteristics that make it a good option. For those that are on the fence about buying one, we'll go over some of the main factors to help you decide.
Distance
One of the things that many people wonder when it comes to the Bolt vs Model 3 debate is how far they can go. Electrical vehicles (EVs) have come far in terms of their mileage, and these two are no exception.
Bolt
Every Chevy Bolt is equipped with the same battery: a 60-kWh pack. With this, the Bolt can travel up to 238 miles with a single charge. Keep in mind that most people regularly travel between 30-40 miles per day, so the Bolt can be used for several days at a time without the need to charge.
Model 3
Unlike Chevrolet, Tesla has set out to provide drivers with a variety of customization options, including batteries. The performance version of the vehicle has a 75-kWh battery that can go up to 310 miles, a major jump compared to the Bolt.
Speed
Most people invest in EVs because they want to save on gas costs or help the environment, but there's no doubt that EVs are fun to drive. Whether you're a casual driver or someone that likes speed, both of these vehicles are powerful in their own right.
Bolt
The Bolt is large in comparison to the Model 3, but its electric 200-horsepower powertrain allows it to go from 0 to 60 miles per hour within 6.5 seconds. The Bolt maxes out at around 91 miles per hour, but there aren't many places where you can drive that fast.
Model 3
Tesla vehicles are known for having aerodynamic, sporty looks. While the Model 3 can be compared to that of a luxury sedan, it can go from 0 to 60 within 3.3 seconds. You'll be glad to know that the Model 3 has a top speed of about 155 miles per hour.
Charging
Charging is important when choosing an EV because a car that takes too long to charge can be a deal-breaker. Both the Bolt and the Model 3 charge quickly, but the type of charger being used influences the charging speed more than the vehicles.
Bolt
Bolts come with an onboard charger that, with about an hour of charging, will provide a range of 25 miles. If you were to completely drain your battery, you'd have to let the car charge for 8-9 hours to replenish the battery.
Model 3
Tesla's onboard chargers can provide the Model 3 with 40 hours of driving range after only an hour of charging. Because of Tesla's popularity as an EV company, they've set up a variety of charging stations throughout the country. These stations can give the Model 3 about 150-170 miles of range within 30 minutes.
Interior
Another thing that people first look at when buying a car is the interior. The Model 3 takes a minimalist approach whereas the Bolt has a classic design.
Bolt
Because the Bolt is a compact hatchback, it has a lot of room inside. The seating positions are high and there are about 16.9 cubic feet of cargo space. The interior has a lot of plastic, so it isn't for those that want a futuristic-looking vehicle.
Model 3
One the other hand, a Model 3 doesn't have as much space as a Bolt does. However, its design is meant to be simple and intuitive. Rather than having a plethora of buttons and gauges, the Model 3 has a large touchscreen that displays information.
It should also be noted that there is a variety of Model 3 accessories available to make a Tesla unique. Most of them are designed specifically for the Model 3, so don't expect to buy them and put them in a Bolt.
Price
One of the main concerns with buyers is how much each car costs. The Chevy Bolt vs Tesla Model 3 price is about the same, but you'll end up spending more on a Model 3 depending on the version and customization options.
Bolt
Bolts typically sell for around $30,000, a standard price for most modern vehicles. When you start looking at the Bolt EV Premier, a luxurious version of the Bolt, you can expect to spend about $40,000.
Model 3
The Model 3 was not a vehicle designed for the masses by any means. However, Elon Musk has set out to develop 2019's Model 3s to be affordable. You can get one for about $35,000 without extra accessories. Depending on the colors, engine, and other features, you'll end up spending an extra couple of thousand.
The Tesla Model 3 vs Chevy Bolt: You Decide
Both of these vehicles are electric, provide a ton of miles, and can be customized to your liking. While the Tesla Model 3 vs Chevy Bolt debate has valid arguments on both sides, there isn't a right answer.
Ultimately, either of these vehicles will provide you the savings and enjoyment that you're looking for. They both have similar prices, so you'll have to decide based on personal preference. If you want a standard look, go for the Bolt. For those that are seeking a unique and sporty look, go with the Model 3.
Browse our articles to learn more about the Bolt and Model 3 to help you make a decision.