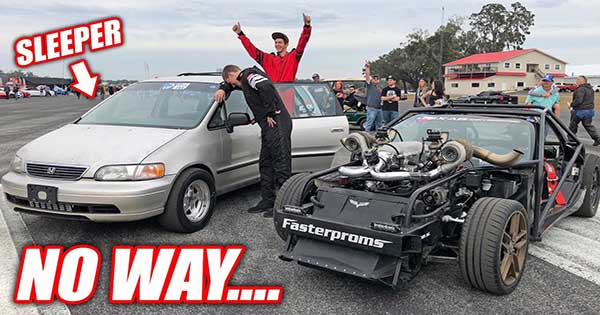 For all of you who were living under a rock and don't know who Cleetus McFarland is he's an internet sensation who has over half a million subscribers on YouTube. He's content is very rich featuring many project cars and racing videos. In this one he's at an airport runway for some ¼ mile drag racing with Leeroy, he's 1000+ HP Corvette. However, he's find himself one unsuspecting foe in a 150MPH Sleeper Minivan.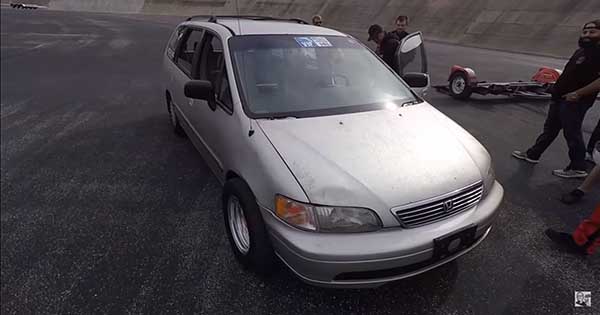 The minivan Cleetus is going against is owned and modified by Boostedboiz. This minivan is a car that your mom used to haul you around when you were 10 years old. However, Boostedboiz managed to make a sleeper minivan out of it featuring over 700HP.
Cleetus is perfectly aware of the minivan's capabilities and the stress before the race is evident. Just before the light goes green, Cleetus realizes that his accusump and intercooler are off, then he managed to stall it.
He was also missing gears and was all over the place. Talking about an epic fail and losing to a minivan like that. Another problem for Cleetus in this race is the surface.
The surface is unprepared so it's not that easy to put all of that power down. You can have an insane amount of power but if you do not put it down it is useless.
Cleetus can't settle with only one run where he's defeated so he asks for another one against the minivan. In the second run Cleetus was more efficient with the throttle and managed to be 200mph faster than the minivan. Nevertheless, this video delivers one great drag racing action between Leeroy and a sleeper minivan.
Finally, here are the best sleepers that you can buy!