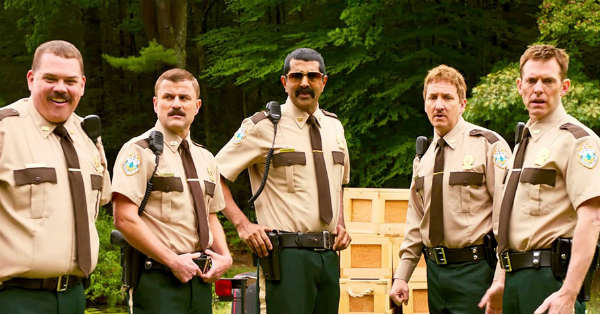 Get ready to drink a huge amount of maple syrup. It looks like the Super Troopers make a comeback and they are headed to Canada. It's been seventeen years since the original Super Troopers was unleashed with its full-force goofiness. It looks like the crew is back for more shenanigans in a sequel. We can see a glimpse of these shenanigans in the new Super Troopers 2 official trailer.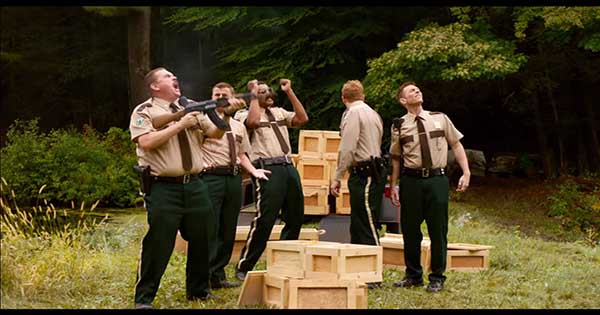 Maybe you've seen a glimpse already in the teaser. However, this is a new full-length trailer and here you can see a lot of foul-mouthed silliness and much more of the funny action.
As you can see in the Super Troopers 2 official trailer, the entire cast is reunited; Foster Mac, Thorny and Farva are all back to do more of their antics together with Officer Ursula Hanson and Captain John O'Hagen.
In this Indiegogo-funded sequel you can see the hilarious troopers in the middle of a dispute between the U.S and Canada at the Canadian-American border. This puts the troopers on duty in Canada where cultures collide and moose jokes ensue.
The film is directed by Chandrasekhar and the script is written by the famous Broken Lizard team. In Super Troopers 2 you can also see other stars like Rob Lowe, Linda Carter, Emmanuelle Chriqui, Hayes MacArthur, Tyler Labine and Will Sasso.
Get hyped because the film is scheduled to arrive in cinemas on April 20. You can see the Super Troopers 2 official trailer in the video below.
Finally, see how Super Troopers 1 went!