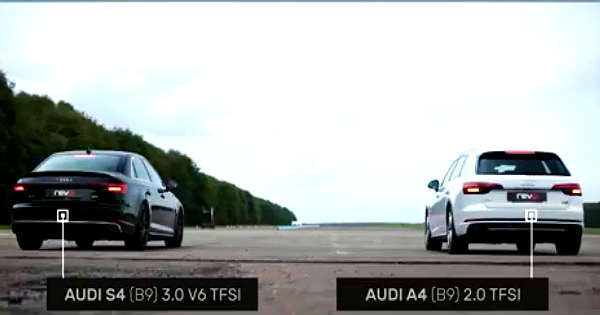 Revo Technik is a very unique tuning team. They are born from a lot of adrenaline-fuelled success in various racing championships and racing teams. They are fully inspired by the racing track but they solely develop for the road. That's what makes them so unique. In this one, they arranged for a very interesting drag race going on between two equally interesting cars. The cars in question are a stock Audi S4 going against a tuned Audi A4.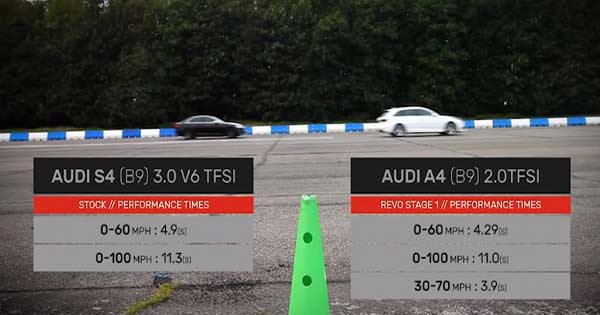 Revo Technik arranging such a duel is comes by no surprise to us considering their ethos which is to perform products that really perform and excite. For this drag race, they chose the latest Audi A4 B9 tuned by Revo to go against a stock S4. The drag race occurs somewhere on a private proving ground. The cars really go head to head. The tuned Audi A4 features 2.0L engine with Revo Stage One Software. The B9 Audi A4 produces 54PS more than the stock one and 48 lb-ft of torque power more as well. That said this tuned Audi A4 is really very fun to drive. The S4 on the other hand comes with fully stock features like 354PS.
To make things equal, both of these cars use the same fuel which is a Shell vPower 99 Ron. Both of them use road tires as well. The race occurred under dry conditions but the track was a bit damp. Interesting thing to note is that during the development dynamometer test, the B9 Audi A4 managed to deliver higher torque and horsepower than what was quoted by Audi. Audi was quoted that a stock Audi A4 delivers 252HP and 274 lb-ft of torque power. However, Revo Technik's dyno test saw figures high as 286HP and 290 lb-ft of torque power. Now, we don't want to spoil the results for you, so check out the video below and enjoy.
Finally, here are some tips if you want to tune your Audi!