They say that you cannot go wrong whenever you are modifying a vehicle hence your finished piece is going to be unique whatsoever. However, there are certain modifications which can be said that they are perfect, whereas there are some which according to many are just waste of time and money. Even though we have previously watched many video in which people have swapped their wheels for more extreme ones, the ones we see here are crazy. Moreover, we even see these huge donk wheels in action on the road!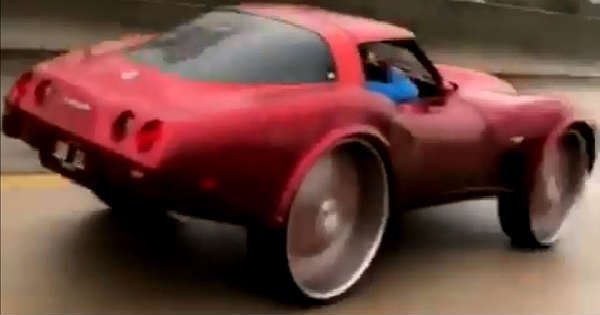 The guy who took this video was peacefully driving in his car when he noticed that the car in front of him besides being perfectly restored, there was something else that was cool about it. When he got near it, he immediately took his phone out and caught all the action. The car had some donk wheels which we have never seen before on such car.
Even though they might seem like they are a bit off-size for this vehicle, they are sure a lot of fun to look at. They fit just perfectly and seeing them in action as they are rolling down on the street is a very unique experience.
One would expect to find those wheels on a big and luxurious truck; however these guys had something else in mind.
Even though the rim is huge, the actual tire is extremely flat, meaning that you cannot really take this car for an off-road fun!