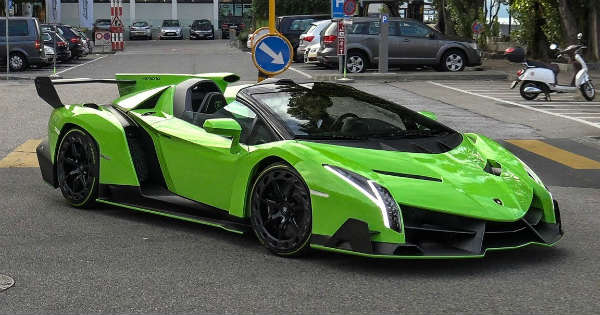 In this one, you'll have the opportunity to see the most expensive vehicle that Lamborghini has manufactured. This Italian hypercar comes at absurd budget-smashing 5 million dollars. The hypercar in question is actually a Lambo Veneno Roadster and is definitely one of the craziest rides we have ever seen. It would be better to witness this monster in real life, but we are not complaining.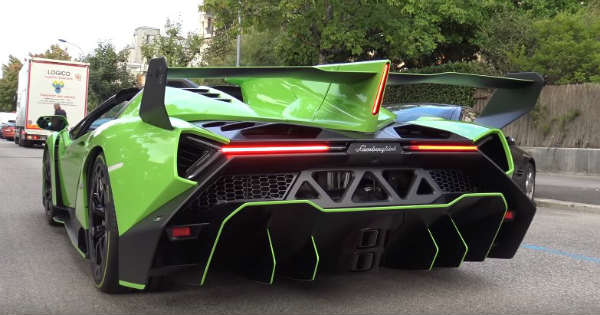 The car features starkly carbon fiber accents and retina-searing green hue. When it comes to the aerodynamic features of this car, it boasts awesome rear diffuser and splitters. Elsewhere in the aero department you can see a massive spoiler with a vertical center stand.
Boasting these features, the Lambo Veneno Roadster looks like a car out of a science-fiction flick. The hypercar definitely has its Lamborghini trademark in the wedge-like side profile. This hypercar is actually heavily based on the Lamborghini Aventador.
However, now it looks drastically changed from its origins. You can find under the hood a modified Aventador V12 engine that delivers 740HP with a limited 220mph top speed. It rips from zero to sixty in only 2.8 sec and brakes from sixty to zero in staggering 98 feet.
When it comes to hitting the corners with this limited edition Lamborghini, you will be instantly pinned against the door due to its face-distorting 1.4g lateral bite. Unfortunately, you won't see any of this in the video below because the car only fires up and cruises around slowly.
This is a real shame when you take in mind the power that's capable of unleashing. Nevertheless, the driver of this limited-edition Lambo has to be cautious in driving this hypercar. Even one small ding or scratch will probably take 5 figures to fix.
By the way, these are the most expensive cars in 2017.