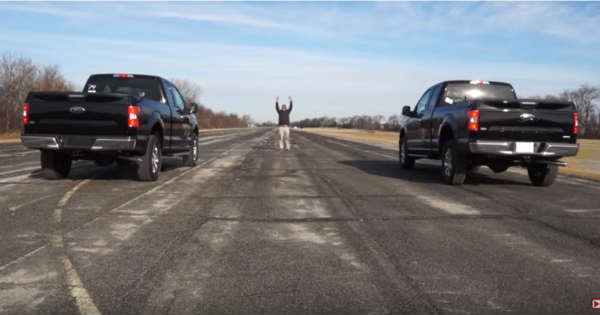 Every once in a while we take a look at different videos in which people put to the test two similar, but different model cars. It is exactly from those tests which we get some answers which we might have not expected to see. However, what is even better is putting to the test two identical cars but with somewhat different engines. Yes, these two powerful Ford F150s go on the road up against one another in a duel that everyone would want to see. Namely, on one end we have the 3.5L Ecoboost and on the other we have the 5.0L Coyote.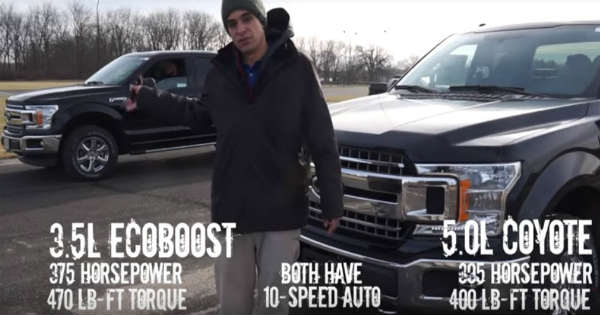 Even though both of the powerful Ford F150s have the same 10-speed automatic transmission the 5.0L Coyote is somewhat more powerful. Namely, the 3.5L Ecoboost is able to make 375 HP and 470 lb-ft of torque whereas the 5.0L Coyote can produce 395 HP and 400 lb-ft of torque.
Just when everything was nice and set and both of the drivers were prepared for the test, both of the Fords were off to a furious start.
Even though they were somewhat equal at the start, the 5.0L Coyote soon after began to gain substantial lead and eventually finished the race in first place.
They repeat this test for couple of times more and in the second one they were so close that it was not possible to tell who the winner was, whereas in the third one the 3.5L Ecoboost got the win. It was awesome to see both of the trucks in action!