For anyone in construction or landscaping, having a lot of waste is a common thing. And seeing skips are even more common. But unless they are on the site itself, they become a hassle to deal with. With grab hires, however, it is cheaper and more effective than ever to pick up waste. They can solve a lot of those problems that you would otherwise run into with skips.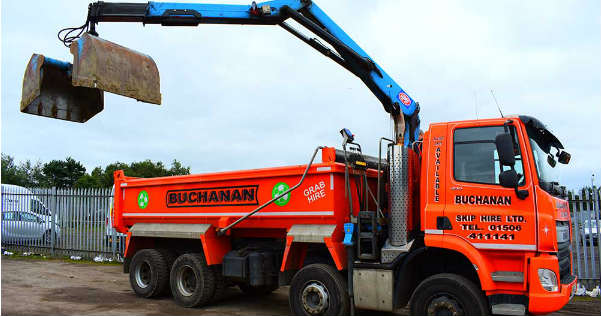 But what are grab hires? What are grab hires used for? Find out about the better alternative to skips and how they can alleviate your waste problem.
But First, What's a Skip?
Now if you don't know, a skip is essentially a large dumpster brought specifically to handle large amounts of waste. You have seen them before, the large rectangular bins that always look so beat up.
They do the job of centralizing all the waste and make claims that they save you time, energy, and reduce your carbon footprint.
However, they come with hidden obstacles; they have to be transported to the location by a lorry, and if they have to be placed on the street, some permits must be obtained.
This can take a lot of time to obtain and can add extra money to a budget.
So Then What Are Grab Hires Used For?
If these issues bother you, fortunately, there is hope. They can be avoided by using a grab hire.
What Are They?
Grab hire vehicles can be lorries, trucks, or any vehicle of any size that is used for the retrieval of waste that needs to be disposed of.
For one, they are more cost-effective than a skip. A grab lorry can hold the amount of waste as two skips at a fraction of the cost. Double the waste pickup with less money.
Adding to their cost-effectiveness, you don't need any permits to have a grab hire to remove waste whereas a skip hire may need the permits which are subject to local residential laws and ordinances, especially if they have to be unloaded on a road or street. 
Special Features
Other crucial things make them worth their money.
They are already mobile, which eliminates the need for transportation for your skip.
And they normally come with a hydraulic arm that allows for pick-ups in bulk, reducing the manual labor and time factors. And you can choose the size of the truck, tailoring it specifically to your desired job.
These two important factors make grab lorries able to fit in better places than skips and allow them to make the job easier for you to complete.
Make the Right Choice
Depending on your particular job, maybe a skip is good enough for you. Maybe you are okay with spending money on permits and hiring drivers to drop it off and pick it up. Maybe you want to do everything yourself and spend more time doing it.
Or maybe you enjoy less work time, more money in your pocket, and more convenience that a grab hire can give you. What are grab hires used for? They are used to make your life easier.
So the next time you have a big project, consider a grab hire.