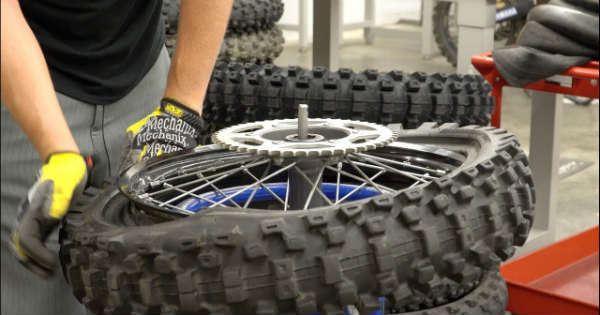 Dirt bike tires look similar to one another, except for those that have a smooth and scanty paddle blade set a few inches apart. You may as well take it for a drive train of an aged sternwheeler. It's common for dirt bike tires to look alike until you scrutinize them beyond the surface. That's when you will identify some other differences in them. Unfortunately, you also have to put compound types into consideration—soft, hard or something in between. But if you want to be specific, you may then think of a tire that's specifically designed for the riding you have in mind.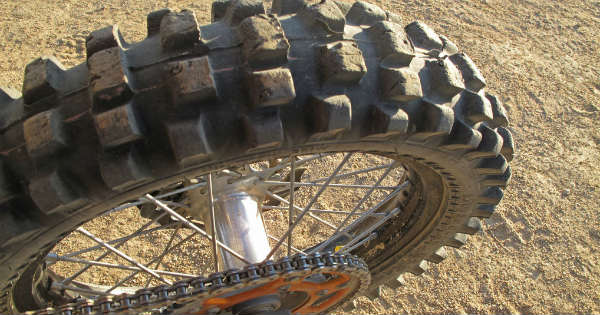 The majority of riders prefer to choose off-road tires and Motocross tires because they both stand out for common tires. If you are travelling on dirt, pavement or gravel roads, dual-sport tires are the best choice. But when travelling on sand, paddle tires are perfect.
The down side is that the dual-sport tire is not suitable for racing. Even though, it may work smoothly on straight rails, you will lose some of them in traction. For smaller wheel and gnarliest of terrain, enduro tires are recommendable, as it can handle them well.
Now, let's differentiate some other popular tires.
Sand or paddle tires
These are the best for riding on sand or dune. All you will do is to spin your wheel to hold traction on a trail or in the sand; you can also consider Motocross tires. Not all sand tires are designed with a wide paddle; most of them have scanty knobs. This makes them look different from typical riding tires such as the Michelin Starcross Sand 5.
Dual-Sport Tires
Have you ever considered Dual-Sport? Most dirt bike tires that are designed for a dual-sport riding are similar to some extent when compared with tires made for street bikes. Well, others look just like the Motocross or trail tires. You may as well, look into Dunlop D606 tires.
With these categories of tires, you can ride anywhere, but they are designed explicitly for dual-sport riding on high way roads or pavement. Mind you, they require DOT approval, and you can see their best performance in the dirt.
Bear in mind that, they can't grip like a typical tire when you are running laps. But you can ride freely on the streets to any close by trail, and allow them to rip. Other types of dual-sport tires made for dirt bikes are good for street riding and offer smooth riding in the dirt, gravel roads and pavement. They work better on those places than on the straight trail, which the Shinko Dual-Sport 705 tires are perfect for.
Off-Road and Extreme Off-Road Tire – Which to Choose?
Now, let's deal with the difficult choice between the off-road, extreme off-road tire made for enduro and the Motocross. Some of the manufacturers designed specific tires for Motocross while others provide off-road types. Well, some dirt bike tires can deal with either of the applications, while they also handle soil situations well.
You may prefer rubber compound constructing tire that can handle a specific soil condition you may encounter when riding. Therefore, a softer compound is fit for slick and hard surfaces. Meanwhile, a hard rubber compound makes a soft terrain tire and allows it to get traction in soil. Riding on trails or track that has a hard pack will be smooth with the Bridgestone Battlecross X40 rear tire.
But if you encounter loams, give Michelin S12 XC tires a trial.
Intermediate Dirt Bike Tires
If you are one of the people that own various sets of tires for workdays and weekends' fun, you will admit that it's quite expensive. Asides this, it makes you miss out on riding in one type of tire every day. Hence, it's better to get a tire that can place you in between.
Thus, you can consider intermediate dirt bike tires that provide the two functions. Many riders opt for this type of tire because it makes them ride effortlessly and switch quickly from blue grooved track to soft trails. The Dunlop Geomax MX3S for intermediate dirt bike tires is perfect for holding slick hard pack or most delicate dirt with plants.
You will need to get an altogether tire designed from another compound to tackle enduro riding. That's better than common off-road tires, Motocross tire or even trail tires. The enduro dirt bike is manufactured with a sticky and hard compound. The good side is that the sticky compound makes it grip hard terrains with trunks and rocks that can cause a slip. You can check the Artrax XC Enduro with sticky Rear Tire that features a durometer rating that's up to 50 shores.
Nevertheless, the casual racer is advisable because it can cope with any soil situation at the local track. But in the case of regional racing, any intermediate is advisable, since they can hold all kinds of soil and also save you some dollars.
If you are aspiring Loretta Lynn's, you may have to get various types of tires since it's for a competition, the same thing applies to trials. You should choose tire compound with soil conditions; that's if you will be riding the same trail system more often.
If you are confused, what it means is that generally, any type of tire that is designed for trail or track will be perfect for others too. But you should note that the only significant difference between off-road and MX tires is size. A standard off-road bike makes use of 18″ tire that provides a larger sidewall for smooth movement when riding over rocks and tree roots. For example, it offers more traction and lesser flats. Meanwhile, a standard Motocross bike uses a 19" back tire that performs well like the off-road tire too.
Although some trails make use of 19″ back tire, 18″ back tire can be better, especially if you think blazing trails delays and consumes time. Better still, you can purchase 19" and 18" rims that can fit the track or trail that you ride.
Conclusion
Choosing types of dirt bike tires could be tricky, except one is equipped with useful tips. But, with the piece of information here, it should be easier for you to choose the right and best dirt tires for your bike now.