One thing is for sure. We have seen just about anything when it comes to exciting and utterly unbelievable car duels. Some of the craziest of cars have been going on the track one against the other in a search for glory and victory. Many times those results have managed to surprise us, but if you thought that was it, you were very wrong. There is still something awesome to take a look. All you have to do is to sit back and enjoy as this big V8 Land Rover Defender 90 takes on the R33 Skyline.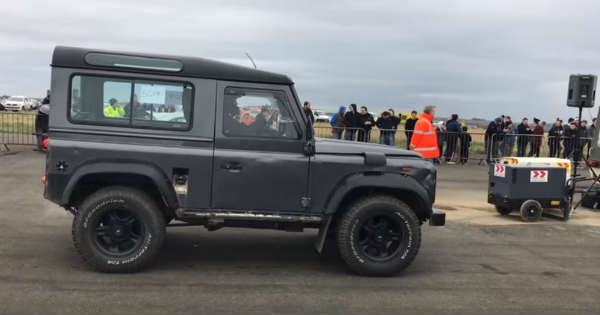 Before we start, you must be wondering how this could even make sense. It is fairly obvious who the winner will be even at the start, but stick around and you just might change your opinion. We see both of the cars preparing for the start.
The audience is very much anticipating this race and when everything was ready, the race could finally begin. The Land Rover V8 Defender 90 is off to a more furious start than the R33 Skyline and it seems like it is going to win the race without the doubt.
This managed to amaze the people there and some of them have a good laugh at it. Even though it was obvious who the underdog was before the race, the V8 Defender 90 proved all of us wrong.
We should never judge a car based on its look; it is what is under the hood that matter. What a spectacular outcome!