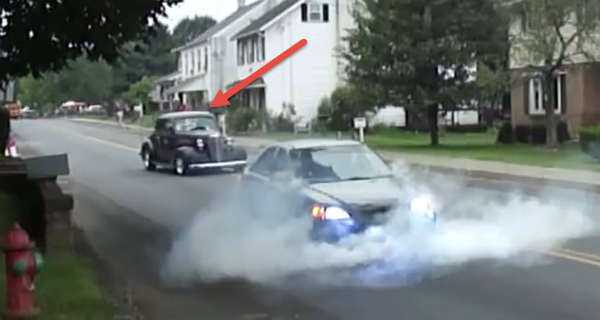 If you want to burn some fresh rubber in a middle of a street, there is a good chance that the motorists behind you might not be very happy with your antics. However, most gearheads can't resist performing a show when a crowd is watching. This Honda driver definitely couldn't resist the temptation and performed one spectacular Honda Civic burnout.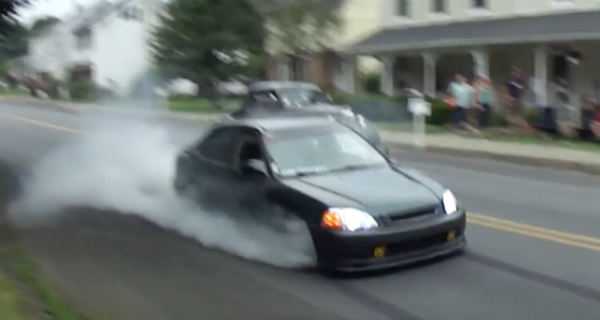 This Honda Civic burnout is really spectacular smoking out the entire quiet residential street. You can see the Civic locking down its rear wheels while the front wheels spin and produce a massive cloud of smoke. However, as the burnout show continues, an oldtimer hotrod approaches from behind, notices the massive burnout but doesn't want any part of it. Instead, he decided to switch lane and just pass him by. However, there is one fundamental problem with that idea, as you will see.
Just as the oldtimer switches lane to pass the smoking Honda Civic, the Civic driver releases the brakes and decides to carry his smoking spectacle down the street. This alone is not really a big deal, as performing a rolling burnout is pretty fun.
However, he didn't let the oldtimer hotrod owner to pass him by. Now, we don't know if this was intentional to keep the oldtimer behind or just a coincidence but this is what happened.
The oldtimer owner was forced to proceed behind the Civic and endure the smoke while proceeding down the block. Maybe the Civic wanted to prove a point that he couldn't be overtaken by the old hotrod.
Finally read some specs and information about the Honda Civic Type R!