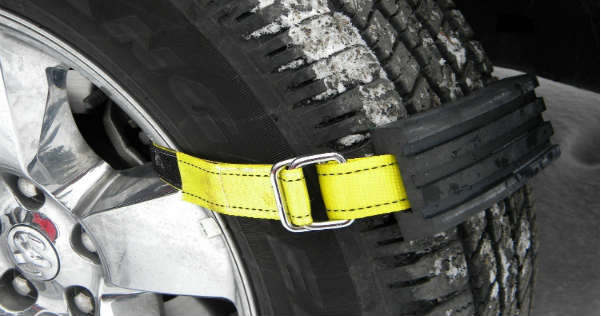 Trac-Grabber is a new inexpensive and pretty easy to use vehicle recovery gadget. This self-rescue device will help you unstuck your vehicle under its own power. Trac-Grabbers deliver a simple, quick and very effective solution when being disabled and stranded in all kinds of adverse conditions and terrain. It's easy as just strapping on the Trac-Grabbers and rescuing yourself with the most efficient vehicle recovery device found on the market.
Since the car was invented, drivers have the experience of getting stuck. More often than not this can happen in very remote places and definitely not at convenient time. That said the thought of being stranded, stuck, and relying on a complete stranger can be very frightening. Add ice, snow, and sub-zero temperatures can make for one hellish scenario. This is why we wonder how come there's not a pair of this safety device in every vehicle.
This self-rescue device has been thoroughly tested by 360° Product Testing and they documented and determined the performance of this device through a specially made test stand. The test was done with a conventional automotive tire.
The sample tire was specially measured for the amount of work/effort when it comes to improved traction on variety of materials. This simulation included "slipping" scenarios.
That said the Trac-Grabber is a very efficient innovation that's been designed to significantly enhance the slipping tire's ability to efficiently extract itself from poor traction situations. All of their tested products can be found summarized with rubber block dimensions and dominant strap colors.
The company who manufactures this vehicle recovery device, Trac-Grabber, LLC, was first formed back in 2010. This manufacturer is the sole wholesaler, developer and designer of this rescue device.
For more info about the product, visit the official website.