Checking out a brand new and quite unusual vehicle is always interesting hence we get the chance to learn something new, something that we have not encountered previously. People seem to be creating all sorts of those vehicles these days and it is time to see yet another one of them. This big ATV indeed does look unusual but once you see it in action, you will realize why. There was a deep mud pit on front of it, and once it was down and going, nothing could have stand on its way.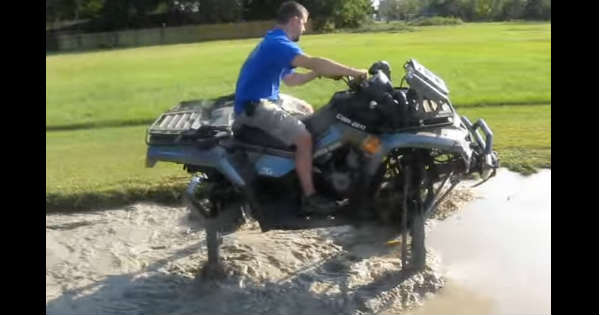 The big ATV is called the Can Am Outlander 800 and it was constructed by Gorilla Axle. Some of the features this machine has are really impressive. On both ends of the axle there are dual CV joints that enable it to move even through the toughest of obstacles.
Even though the wheels cannot be seen throughout most of the video, they are in fact four 32" Silverbacks that are extremely durable wheels. The biggest concern there is about this big ATV is the problem with the center of gravity.
Due to the fact that this short vehicle is in fact so high up from the ground, going at a somewhat high speed and making a sharp turn might turn out to be a total disaster.
Nonetheless, this vehicle was built for purely one use, the one of encountering and going through all type of different obstacles, such as this one we see in the video!