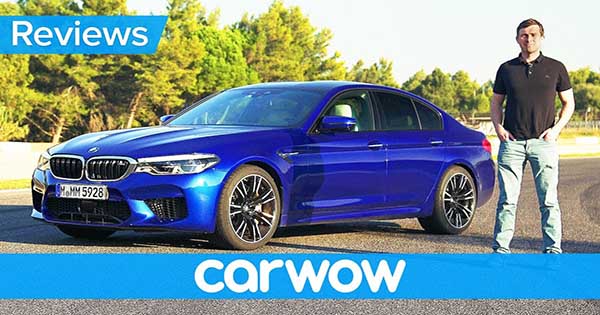 Here we are once again with a great review as the new BMW M5 2018 finally got its chance to prove! The new M5 model is built right around the previous 30 Jahre model but has a bit more power! This car absolutely seems to have it all. It is stable when drifting, it is fast, comfortable and has everything one might need Now, let us proceed to the review done by CarWow!
First of all, we already saw a review on the Mercedes Benz AMG E63 S! The numbers then were staggering to be honest. The E63 S finished the 1/4 mile in 11.2 seconds as it hit 60 mph in 3.2 seconds! At the very beginning we are going to see how the new BMW M5 2018 performs on regards of the Mercedes Benz AMG E63 S! Well, BMW fan boys, you may start celebrating! The BMW M5 is a bit faster than the E63 S Mercedes! It covered the 1/4 path in 11.1 seconds as it reached 60 mph in 3.1 seconds which clearly makes it FASTER THAN THE MERCEDES BENZ AMG E63 S!
However, the new BMW M5 2018 will be on sale in Spring next year and it will raise the bars for all performance cars as it comes in AWD as well! Nevertheless, this performance vehicle comes with an amazing powertrain. To be more precise, the package under the hood consists of a 4.4 L V8 engine and an 8-speed automatic transmission. The engine, however, comes with 591 horsepower and 553 lb/ft of torque! This sweet ride could be yours for something over $100K.
Finally, read more about the M5 series, here!