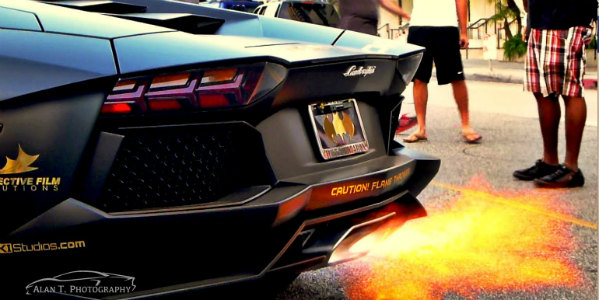 There are not many things in this world and in this life that are so good, so cool, as having an amazing girl and an awesome hypercar car at one place. And when that combination means that there is a gorgeous blonde, driving one out of this world sports car like the Lamborghini Aventador, then we have a wet dream coming true for every Gearhead in this world. Don't you think so?
I mean, watching a Lamborghini Aventador shooting flames out of the exhaust and showing off its engine power by revving hard, is always very cool and highly appealing. What is there that you would not like in such a V12 monster, right?
But here we have a little bit extra, one insanely cool video, something that we do not get a chance to see in every second flame shooting video clip – a girl in a luxury sports car that is giving us a flame shooting show! This video was shot during the arrival of the Gold Rush Rally 5, when this gorgeous blonde appeared with the awesome Lamborghini Aventador (Batventador) that is equipped with IPE Innotech Performance exhaust and valvetronic system, and gave its fans what they needed. The proper dose of revving and flame throwing action!