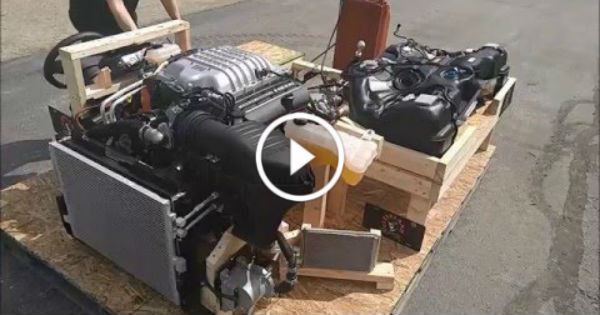 The Dodge Hell Challenger has very quickly grasped the attention of gearheads around the world. One of the reason is due to the Challenger's excellent styling. Other reason, of course, is the 707HP that is delivered by the awesome supercharged Hemi engine. When it comes to the staggering supercharged Hemi powerplant, we have something extraordinary to show you. Cleveland Power and Performance made a Challenger Hellcat engine to be available as a very awesome crate engine. However, this is far more than just a crate engine. It's actually the entire Hellcat powertrain. It's complete from the exhaust system to the gauge pod.
Cleveland Power and Performance has this crate powertrain ready to fire. You can actually see it being fired up right there on the ground. If you are working on a Dodge project, this is the perfect engine to mount. However, we can't really say what this crate filled with HP will sell for. Nevertheless, we are more than sure that many collectors and custom shops around the US are lining up with offers. This desirable Hellcat powertrain can make any Dodge build way more powerful than just purchasing an engine alone. Maybe someone will buy it to just leave the powertrain on the crate. Because, having a crate with 707HP is incredibly cool.
Ever wondered what's under the hood of a self-driving car? Find out here!
---
---