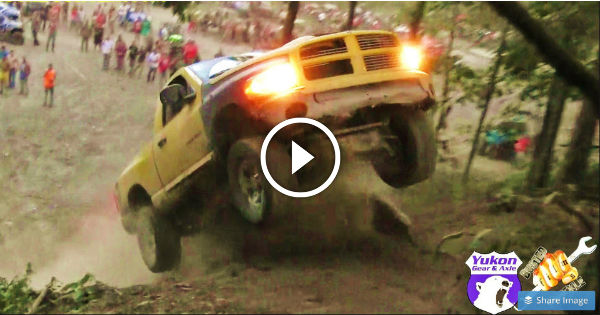 To tell you the truth, sometimes I really can not understand these guys just what the hell they are trying to do with their trucks. Proving just how great and powerful machines they have, or completely destroy it by taking on a hill climb challenge, like the one that you are about to see in the following video that we have prepared in this post.
What we have here is group of guys with their trucks, and the main focus is on this great looking Dodge Ram Truck in yellow, that is being used and abused to the maximum, as its owner is trying to prove his hill 'climbing' abilities and show off his driving skills.
So, we have one driver who is really persistent in trying to climb that almost 90 degree hill, regardless of the fact that he is running the truck, but the crowd is going crazy! At the end of it, he is successful, but I do not think his mechanic shares his opinion. Maybe some of you will disagree with me on this one, but just watch the video and tell me your opinion about it.
---