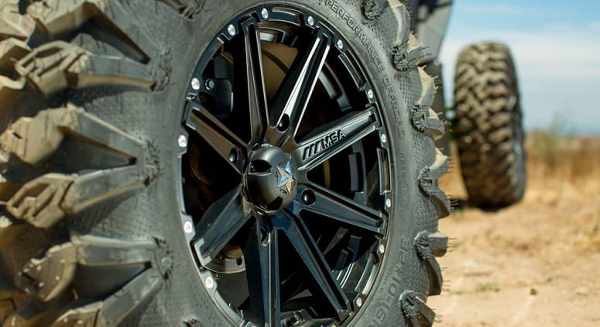 Those who buy UTVs do so for a variety of reasons. They may use the UTV as a working vehicle on properties that are operated for commercial gain. They may own extensive lands which require a tough, off-road vehicle to reach otherwise inaccessible areas, or they may simply own a UTV for the great off-road fun that these vehicles can provide.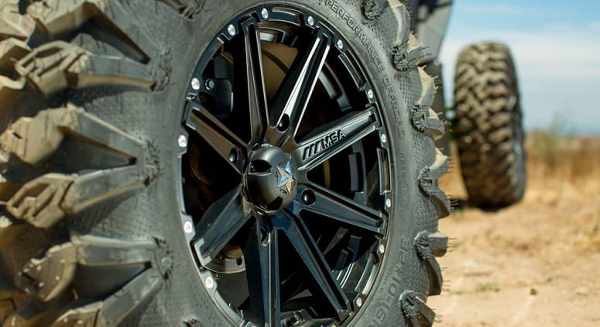 Whatever the reason for owning a UTV, these vehicles are usually faced with tough terrain that may involve unpaved roads, rocks, sand and mud, as well as having to traverse streams and standing water. UTVs may also be asked to perform in adverse weather conditions with rain, sleet, and snow providing even more challenges.
For these reasons, the utility of a UTV can be greatly improved by fitting great tires. Here are 5 of the best for 2022.
1. The Carlisle All Trail ATV Tire
This all-terrain, four-ply tire is great for ATVs and UTVs. It's fabulous for those users who want that extra grip – but also want a tire that is kind the lawn in the front or back yard. They feature deep treads and are great for dealing with snow, sand, and paved roads. This is a great all-purpose tire.
However, the tread can be narrow and is prone to picking up gravel. They can also show excessive wear if your alignment setup is not perfect. That narrow tread also means that traction can also be an issue on more challenging surfaces.
2. The ITP Mud Lite ATV Tire
If you are looking to get real 'bang for your buck' then this tire is a great choice. These six-ply are the perfect solution for those who are trail riding enthusiasts. They offer a great ride and are made using a tough, extended-wear rubber compound which helps keep them going long after other tires have reached the end of their lifespan.
3. The Weize All Terrain UTV Tire
If you want tires that are able to handle anything you throw at them then these may be the tires for you. They are equally at home on gravel, tar and loose sand. Great, deep tread and a top-of-the-range rubber compound make these tires tough – the 6-ply thickness also helps prevent tears and punctures.
4. The BFGoodrich Baja T/A KR2 UTV
If you want the reassurance of buying UTV tires from a company with a reputation built on quality products then these tires will deliver. They're good for any terrain and the lightweight radial design means great performance and fabulous fuel economy.
Traction on mud and sand is exceptional and fitting these tires helps with braking and handling if the setup is right. Each tire comes with CoreGuardTM technology, meaning a longer lifespan and less damage to the tire, even in the toughest of conditions. The downside is that these tires can be pricey.
5. The Maxxis BigHorn Radial
This manufacturer has built an enviable reputation with those who know their UTVs. Although these tires might not be the ideal choice for mud or snow, if you want exceptional performance on hard-packed roads or on gravel and sand these tires will exceed your expectations. The deep and wide tread offers exceptional grip and handling and this tire is tough enough to keep on giving when others have given up. The lightweight, radial design also means great ride comfort.
Choosing the right tire can be the key to enjoying your UTV experience. Price, tread pattern and depth, and a variety of other factors such as size, ply rating or whether to go with radials or bias tires all make the difference. Do some research before you make your purchase – it'll pay off in the long run.