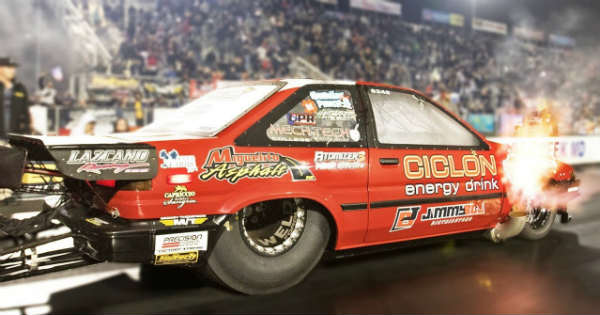 The Mech-Tech Racing Team sure knows how to build some pretty fast cars. Their latest edition in the drag-racing world is the Toyota AE86 car which managed to put on one insane show for everyone at the Import vs Domestic Finals WCF. The WCF event is known to shatter many class records and always delivers a great show. It's a very unique racing event unlike any other on the planet.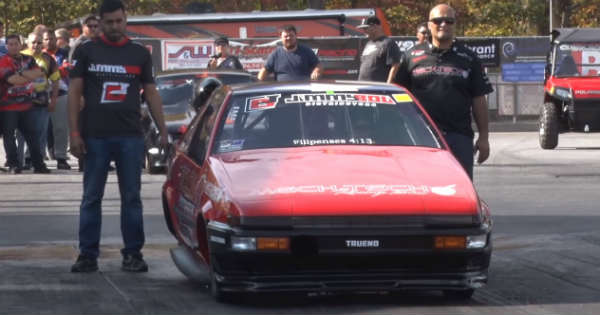 This event attracts many Heads-UP racers from 10 different countries. They are all competing for a hefty reward of over $100,000. Now back to the topic at hand. The famed Toyota AE86 car built by Merch-Tech managed to obliterate everything that encountered on the drag-strip. It also busted out a brand new personal best of 5.91 at 242mph!
We got to say, this is pretty remarkable for a short-wheel-based car only ¾ ca. Now, you might ask, what's the engine that lurks under the hood and manages to push this monster to such staggering numbers? Well, the power plant that lurks inside of this AE86 is the infamous inline-6 2JZ of course.
We also got to give huge props for the racer who's racing with this AE86 as he showed some pretty impressive reaction skills. The Mech-Tech Racing Team is also known for developing great racers as they possess a racing simulator that delivers the feeling of racing an F1 car.
In the video below, you can see a sequence of races where Mech-Tech's AE86 literally destroys the entire racing grid.
Finally, read more about the Toyota stock car, here!