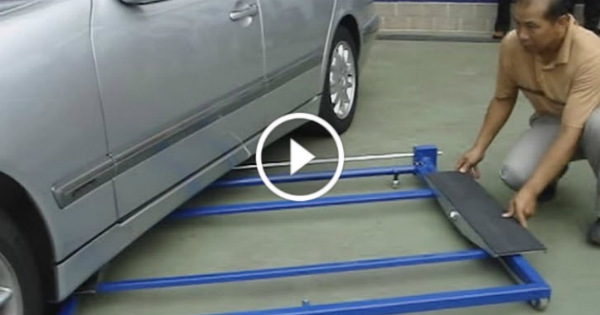 Car enthusiasts know that if you love a car, you ought to take care of her. And some would even argue that if you truly love it, you will take care of it personally. However, not everyone has the expertise or proper tools to do so, but those who one a thing or two more than just filling up the gas tank may find this tool rather handy. We are referring to the tilting Mini Lift 2500 – an easy to use device that will lift your car of the ground effortlessly. And when we mean effortlessly, we mean that you won't even try to sweat!
All you need is a drill, which you attach it to his tool, and it does the lifting for you! No matter if you have to change a tire, brake fluid or to do some body work, this tool should be among your top choices. Plus, the lifting capacity of the Tilting Mini Lift 2500 is 2.5 tons, so you don't need to worry if it can meet your needs. Unless you have a tank in your garage. That's enough from us talking, all you have to do now is to watch the video below and to see what we have just said with your own eyes.
Wondering how to install a car lift in your garage? Here is one nice article about it.
---
---