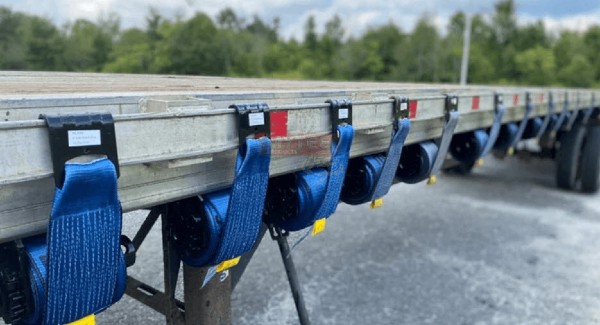 When moving large and heavy items, it's integral that you find the best way of tying them down in your trailer without the risk of that cargo falling or shifting during transit. While there are many options available such as chains, bungee cords, and cargo nets, tie-down straps are a hauler's best friend! The soft, durable, polyester webbing protects cargo from scratches; without a doubt, winch straps are one of the most popular cargo control trailer straps truckers can buy.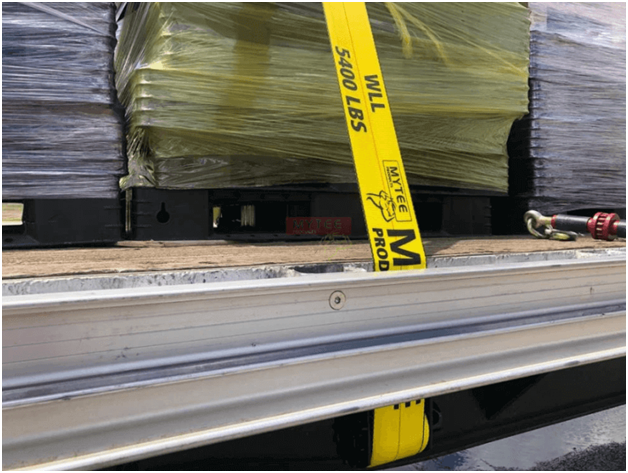 However, purchasing cargo straps is just half of the battle – there are other factors you need to know before investing in winch straps inventory. To ensure that your cargo is properly and legally secured, winch straps need to be used with winches and winch bars. These cargo control tools will help you tighten your winch straps appropriately around your cargo.
Winch straps are available in a variety of sizes, ensuring that you will be able to find the perfect size to reliably strap around your cargo. While many cargo straps may seem similar in everything but color and size, like any good trucking product it is important to know what makes a high-quality, reliable winch strap before buying.
Things to Consider before Choosing Winch Straps
Some important things to consider would be the webbing, end-fittings, the sewing pattern, and more! We've compiled a list of things to consider while choosing and purchasing a winch strap to help you in your cargo control product search!
How Much Weight the Winch Strap Can Handle (WLL)

It's important to pay close attention to how much your cargo will weigh because that will determine how many straps you will need to properly strap down your load. If your cargo weighs more than the total working load limit of your straps, there is a high chance they will snap or tear during use. This will put not only your cargo at risk of damage, but it puts your fellow motorists in danger too! Each strap will have its own working load limit typically determined by the width of that strap, and this is the weight you should follow to know how much the strap can handle.
When purchasing flatbed straps, you need to ensure the maximum weight of your cargo will not be greater than the combined WLL's of your trailer winch straps. Additionally, there are laws and regulations in each state about the number of straps that are required for tying down loads that you should be familiar with and adhere to while on the road.
Length of Winch Straps
Another important thing to consider is the length of your winch strap. There may be a situation where you find that, after buying one or multiple cargo straps, you find the winch strap to be too short and unable to fit over your cargo. This can be a frustrating discovery. On the flip side, you can also purchase trailer winch straps that are too long. In this case, the amount of loose strap can be unmanageable and flap in the wind behind you, becoming a hindrance while you drive if not a dangerous situation altogether.
Purchasing the right length winch strap for your flatbed or trailer will save you a lot of money and headaches down the road.
Types of Winch Cargo Straps End-Fittings
It's especially important for auto-haulers to know and consider that each vehicle has a different type of tie-down point to attach a winch hook strap. Winch hooks come with a variety of different end-fittings, with some of the more popular or common listed below:
D-Ring: D-rings are designed specifically to provide a reliable secure anchor point for any tie-down job you will come across. Offering quick and easy attachment, D-rings are more than ready to help provide necessary securement points for your winch straps!
Flat Hooks: These work well for flat anchor points, such as rub-rails, on flatbed trailers.
Wire Hooks: These are extremely durable and can quickly latch into place on your flatbed trailer within seconds! You can secure your load faster and get on the road with the peace of mind that your straps will remain intact throughout the entire transportation.
Chain Anchor: An incredibly helpful tool for most haulers, this winch hook strap end-fitting is very simple to use! Ideal for heavy or uniquely shaped cargo, the chain and hook end-fitting may be the best option for haulers who don't have a lot of anchor point securement options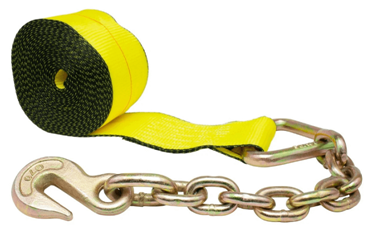 These above-listed end-fittings are not the only options available to those who use trailer winch straps, but they are the most common you may come across while choosing which to buy!
Tightening Methods
When tightening trailer straps around your cargo, you may oftentimes need help. There are mechanisms and tools that are designed to help tighten cargo straps to your flatbed trailer. Every hauler should consider the following types of tightening methods for trailer straps:
Cam Buckle Straps: Cam buckle straps are designed with a thumb release that you press down on when feeding your strap through until it is tight. When you release your thumb, the buckle's teeth will then bite down on the strap to prevent any slipping or early release – these straps won't be going anywhere!
Retractable Ratchet Straps: Similar to the ratchet strap's unique design, the ratcheting mechanism opens up to allow you to pull the strap through, and then once closed you use the lever to tighten the ratchet as much as needed. Once your strap is properly tightened, you can then store the remaining slack inside a housing unit attached to the ratchet strap to keep it out of the way!
Tie-Down Winch Straps: Ideal for heavy-duty applications, one strap is fitted with an end-fitting that attaches to the truck or trailer's anchor point. The other end is then tightened typically with the use of a winch bar.
Winch Bar: A straightforward tool, winch bars have a "mushroom" tip that slides easily into your standard web winch and a non-slip grip handle to ensure you will have the best hold on the bar as you tighten the winch to your trailer.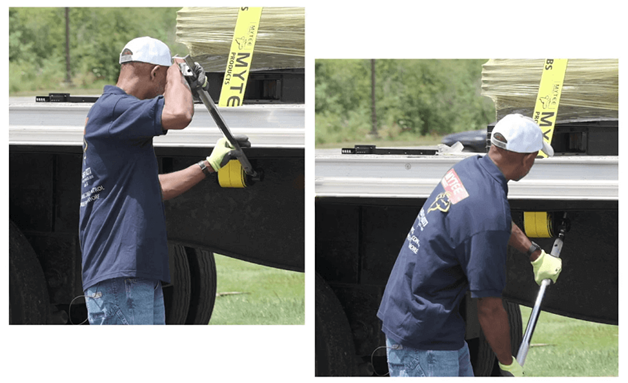 Sew Pattern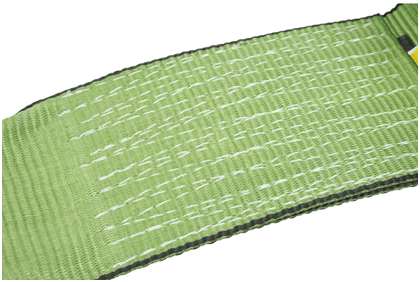 A pretty straightforward detail, the sew pattern is the pattern used to attach the end-fittings to the cargo strap's webbing. The sew pattern is key to the overall strength of your trailer winch strap, as a weak or poor pattern could result in your cargo strap breaking much earlier than it should! There is a very fine line between over-sewing a winch strap and under-sewing it.
You should also be on the lookout for what is the fold-over pattern and check to ensure that it is long enough for a reliable, strong sew pattern. A general rule of thumb to tell is to see if the fold-over is a minimum of 5.5 inches.
Ratings and Markings
Finally, the last but equally important thing to consider when choosing and buying trailer straps is their rating and markings. A winch strap without the appropriate ratings and markings is deemed unusable depending on Federal, State, or Province-based regulations and laws.
The best way to tell if you may be using an outdated or weak winch strap is to search for its working load limit tag. In order for this tag to be considered legal, it should be marked with the manufacturer's name and the strap's WLL number. The working load limit is one of if not the most important tags to have on a cargo strap, so it should also be made of durable, typically weather-resistant material.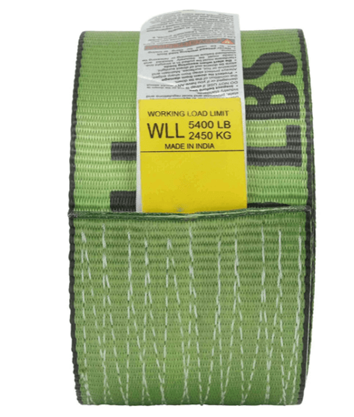 In addition to the WLL tag, search for one or two red lines that should run down the center of the trailer winch strap. These lines are indicators of the polyester webbing's strength. These lines specify the strength of the webbing in one red line representing 5,000 lbs per inch, and two red lines representing 6,000 lbs per inch.
Be on the lookout for these two very important ratings and markings when choosing and purchasing a winch strap. Should a cargo strap be missing one or both of these, it's is not just recommended to avoid using it – it is considered ILLEGAL in some states! Be safe before you become sorry!
Next time you are in need of new or replacing flatbed straps, the above article will be a helpful tool in helping you understand what to search for in a good, high-quality winch strap. You want your trucking products to be able to last you a long, long time. Whether you tend to haul heavy or light loads or prefer using a flatbed trailer over an enclosed one, winch straps will always be able to provide the best quality of securement for your cargo. That's why it's so integral to take the extra steps to know what goes into the make and design of a great cargo strap before you purchase them.