Checking out completely random videos on the social media is something common hence people share them on daily basis, thus giving us the possibility to be amazed by the context. Whenever we take a look at a big vehicle, we are always amazed by its features and abilities. However, would it be better if we check out two such cars at one place? Of course it would be and watching this intense and tough tug of war duel is going to show you why we think so. Two absolutely beasts Range Rover vs Ford Raptor are going one another in this short video!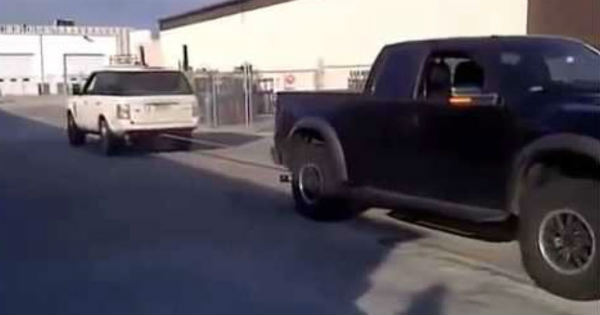 On the left side we see the mighty white Land Rover Range Rover, whereas on the right side we take a look at the whooping beast, the Ford Raptor. Even before this tug of war duel begins, we know that what we are about to see is going to be awesome.
Both of the cars are off to a furious start and even though it might seem like the Ford will gain the lead, the Range Rover had something else in mind. It pulled extremely hard and managed to take over the lead. However, that was not enough for the win as well.
The Ford Raptor managed to bounce back from the difficult situation and began to pull the Range Rover. Soon after, the Ford managed to completely win this intense tug of war duel.
It surely was one of the better such duels that we have seen in a long time now!